ILLAWARRA BROMELIAD SOCIETY Inc.
Club News.
---
Click HERE to return to Illawarra Bromeliad Society "Club News Page".

---
NEWSLINK
January 2017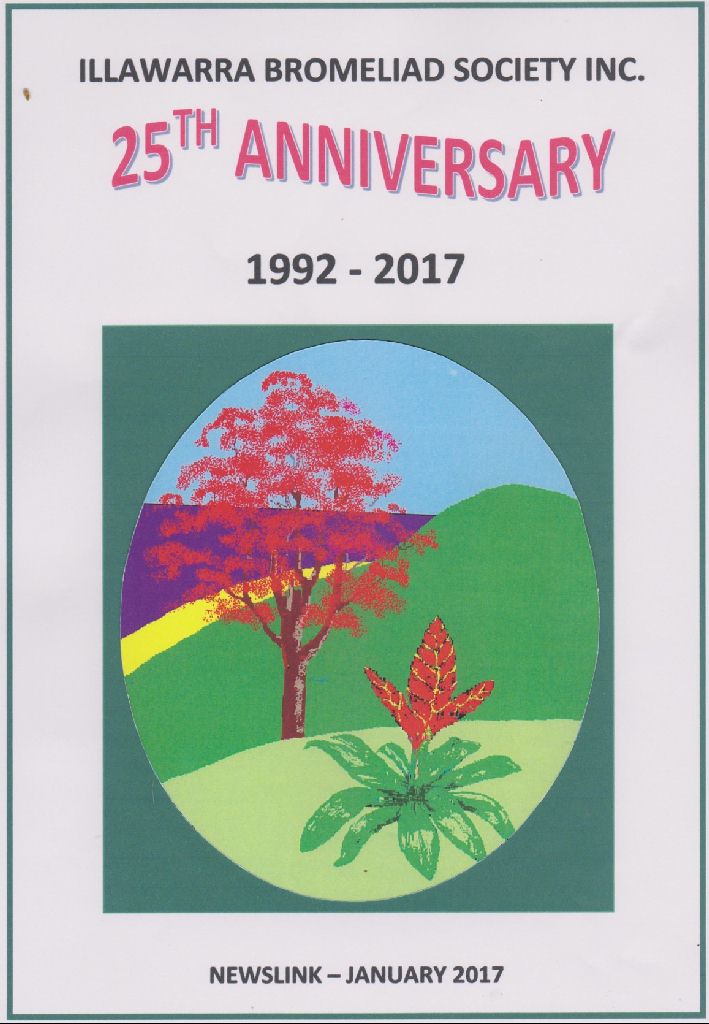 ---
- Articles appearing in this issue of NEWSLINK are for information purposes only and are not necessarily endorsed by the Committee or the Illawarra Bromeliad Society.
- The Society is, by the holding of meetings, displays and competitions, to provide a forum for the people of the Illawarra region who are interested in the culture and collection of bromeliads.
- Under the provisions of the Privacy Act, use of names and references to private details, such as illness, holidays, birthdays and items of a similar nature, may only be published with the written permission of the person concerned.
---
CELEBRATING OUR 25TH ANNIVERSARY
When I started out to do this write-up in celebration of our 25th anniversary, I wondered if it was worthwhile reprinting some of the material which I included in our January 2012 issue of Newslink for our 20th anniversary. But, on counting up just how many new members we have signed on during these past 5 years, I found that the figure is close to fifty. So for some of our newer members who may not be aware of how our Society began I will extract a few paragraphs, just to fill you in.
It all began after an article appeared in the Advertiser newspaper to let Illawarra residents know of the possibility of starting up a local bromeliad society in the area. This article had been at the instigation of Merv Henderson, a member of the Bromeliad Society of New South Wales, whose dream it was to introduce more people along coastal New South Wales to the beauty of bromeliads. And so it was that on February 1, 1992 about 20 people met at the Education Centre of the Wollongong Botanic Garden to discuss this proposition. Tremendous support was also given by other members of the New South Wales Society, many of whom travelled down to stage a very beautiful exhibition of bromeliads in readiness for the visitors who would attend the meeting. It was apparently a most inspiring, friendly and successful occasion and Merv's aspirations were fulfilled as the Illawarra Bromeliad Society was formed, the inaugural meeting being held on March 7, 1992.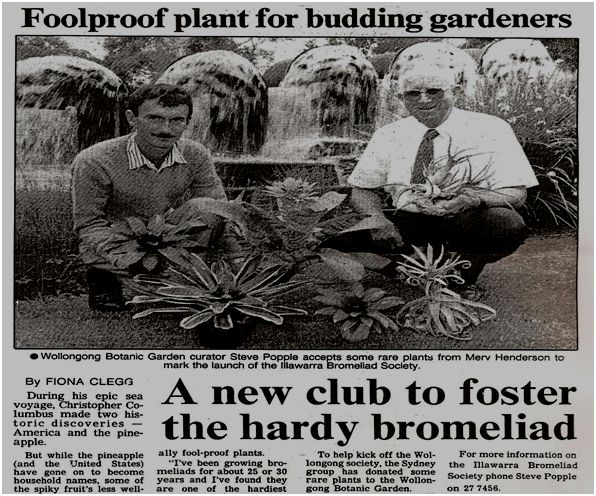 Margaret Bartley, our first Secretary and current Lifetime Member (her husband, Jeff [now deceased] was our first President) remembers those early days as fun and exciting, with a core group of people working together to get things off to a flying start.
This fledgling society, in its first year, participated in the Florawarra festival (an event held each October at the Wollongong Botanic Garden) as well as putting on displays at the Corrimal Shopping Centre and Shellharbour Square and, during its second year, our Society was invited to participate in the Wollongong Horticultural Society's Autumn Show as well as Florawarra. Also there was liaison with Steve Popple, then curator of the Wollongong Botanic Garden, to have the roof of the glasshouse replaced and a donation of bromeliads by our Society for display in this structure, as well as to start a bromeliad section in the garden outside. Also during this second year for our competition table a trophy for most points was introduced, with dear Dulcie Doonan being the first winner.
In 1998, when Florawarra became no longer viable and had to be cancelled, an invitation came from the Corrimal Chamber of Commerce to take part in the "Spring Into Corrimal" festival and with their help we found our new location which we have used every year since—the Uniting Church Hall in Russell Street, Corrimal.
The year 2001, however, was a milestone year for our Society for in October we hosted Brom-A-Warra, the 11th Conference of Australian Bromeliad Societies, at the Sea Spray Function Centre in Shellharbour. The cover picture on this issue of Newslink was the logo used for the Conference and was designed by John Killingley.
When membership increased to the point where we needed a larger venue for our meetings we moved in February 2007 to the Dapto Ribbonwood Centre where we seem to have gone from strength to strength. But I think that a sign of just how successful and friendly our Society has been is that we still have 4 of our inaugural members participating, as well as many others who have been with us for twenty years or so.
But we haven't been "resting on our laurels" and in recent years we have arranged for workshops to be held at members' gardens several times a year where it gives newer members—as well as more long-term members and visitors—an opportunity to meet on an informal basis to learn some of the basics of bromeliad growing such as separating pups, potting up, potting mixes, fertilisers, mounting, etc. etc. We have also arranged garden visits—at least three a year—and these are immensely popular.
Technology has played its part, too, as our Newslink now goes onto the web (www.bromeliad.org.au), reminders and updates of upcoming topics and events are emailed to our members, and, most recently, Michael Drury has been working very hard to scan and put all of the previous copies of Newslink onto USB sticks which members will be able to borrow from our Library. Power Point presentations are also now easy and popular, using the Society's laptop and projector.
Ours is a fortunate Society, I believe, as we have always had that willingness and commitment from our members to make it the friendly and interesting forum that we have today, and I am confident that we can look forward to many more years and anniversary celebrations.
---
NEWS IN BRIEF:
POINTS SCORE WINNERS: Hearty congratulations to our Points Score winners for 2016.
Open --> Lydia Chinnock
Novice --> Sandra Carnie
Tillandsia --> Noel Kennon
But thanks go to all of our members who participate in our monthly competitions as seeing all of these beautiful plants on display is one of the highlights of our meetings for many of us.
---
MONTHLY RAFFLE PRIZE ROSTER:
- February - Rhonda Patterson, Yvonne Perinotti, Bob Stephens, Beverley Irvine
- March - Ann Kennon, Anne-Marie Brun, John Toolan, Sandra Southwell
- April - Jim Clague, Jørgen Jakobsen, Les Thain, Fred Mirande
- May - Laurie Dorfer, Edwina Caruana, Eileen Killingley, Suzanne Burrows
- June - Freda Kennedy, Maureen Wheeler, Sharyn Baraldi, Jim Beverstock
- July - Max Williams, Mary Bennis, Doreen Netting, Noel Kennon
- August - Neville Wood, Melissa Talbot, Lydia Chinnock, Rhonda Grant
- October - Beth Clague, Barbara Jones-Beverstock, Ted Clare, Steve Wain
- November - Noel Kennon, Michael Drury, Deniece Crutchley, Maadi McKenna
- February 2018 - Fred Burrows, Monica De Clouett, Meri Stefanidakis, Maria Jakobsen
---
GARDEN VISITS – SATURDAY, 25TH FEBRUARY:
We will visit three gardens on this day, starting at the Kennon's home in Kanahooka (Phone: 4262-7614) where Ann and Noel have kindly offered to provide morning tea. From there, at approximately 11.15 am we will move on to Yvonne Perinotti's in Horsley, spending about 45 minutes there before heading to the Clague's home (also in Horsley) where Beth and Jim will provide tea and coffee--but please bring your own lunch and donations of a slice or cake, etc. to share will be welcome.
Michael will have handouts at our February meeting providing a map, addresses, etc. and will also send out his usual email with these details before the date of these visits.
---
GARDEN VISITS – MARCH 11, 2017 SALES DAY:
We are planning a sales day—similar to the one we conducted in February of last year—on Saturday, March 11 to be held at the Warilla Neighbourhood Centre which is located in the heart of Warilla, next to the Swimming Pool on Benaud Crescent, with entry from Lake Entrance Road. More details will be available at our February and March meetings.
---
WORKSHOP - APRIL 22:
The first workshop of the year will be held at John and Rita Toolan' lovely property at 5 Rondanella Drive, Kanahooka (4261 1773) which will feature: 1) taking pups and potting up; and 2) mounting tillandsias. Members who would like to learn how to pot, please bring a pot and some potting mix; we will provide the plant, the fertiliser and the name tag. For members who would like to learn how to mount a tillandsia please bring a plant and something to mount it on. While this is a workshop especially for novice growers--with Neville, Graham, Ann and Noel there to provide advice and help--all members are welcome.
This will kick off at 10 am with morning tea and for lunch John will do a sausage sizzle, with bread and sauce also provided, but it would be appreciated if you could bring salads, and cakes or slices to share. We will finish around 2 pm.
---
UPCOMING EVENTS :

February 26

HILLS DISTRICT ORCHIDS AUTUMN OPEN DAY – 183 Windsor Road, NORTHMEAD (Park in Mary Street or Windermere Avenue) 9 am–4 pm www.hillsdistrictorchids.com
Ed. note: Ian Hook will have a Bromeliad Open Day on same date - 6 Mary St, Northmead.

March 25-26

BROMELIADS AUSTRALIA – OPEN DAYS – WYEE - See back page for details

March 30-April 2

SUNNYBROMS – 19TH AUSTRALASIAN BROMELIAD CONFERENCE – SUNSHINE COAST. www.sunnybroms.com

April 8-9

COLLECTORS' PLANT FAIR – HAWKESBURY RACE CLUB, CLARENDON Sat 8am–4pm/Sun 9am-4pm - Further Information Linda Ross 133 133 100/Email: convenor@collectorsplantfair.com

April 29-30

BROMELIAD FAIR Concord Senior Citizens Centre, 9-11 Wellbank Street, Concord. Sat10am–4 pm/Sun9am–12noon

May 13-14

BROMELIAD SOCIETY OF AUSTRALIA – AUTUMN SHOW CASTLE HILL SHOWGROUNDS – Sat 9am–4pm/Sun 10am–3pm
---
UPCOMING TOPICS, 2017:
February 4, "Fertilising Bromeliads", Terry Davis
February 25, Garden Visits – Wollongong South
March 4, "Growing Products", Healthy Earth
March 11, Plant Sale – Warilla Neighbourhood Centre
April 1, "My Garden", Lydia Chinnock
April 22, Workshop at John Toolan's home: Taking pups, potting, and mounting (Sausage sizzle lunch)
May 6, "How to Grow Tillandsias", Laurie Dorfer
May 20, Garden Visits - Wollongong South
June 3, "What Judges Look For", Edwina Caruana and Laurie Dorfer
July 1, Christmas in July Social Function "Soup n' Sweets" Plus: Quiz by Noel Kennon
July 15, Workshop at Lorraine and Fred Mirande's Home: "Preparing Artistic Entries for Show" (Lorraine and Fred will supply a sausage sizzle)
August 5, Annual General Meeting with election of officers
August 19, Workshop at Lorraine and Fred Mirande's Home: "Preparing Plants for Show" (Lorraine and Fred will supply a sausage sizzle)
September 2, "Bromeliad Terms", Neville Wood and Ann Kennon
September 9-10 Annual Show – Uniting Church Hall, Corrimal, With setup from 9.30 am Friday, 8th September Led by Steve Wain
October 7, Unusual Genera – Display and Discussion
October 21, Garden Visits - To be advised
November 4, "How to Identify Plants" Graham Bevan
November 18, Workshop at Sharyn Baraldi's home: "Questions and Answers
---
MONTHLY PLANT COMPETITION RESULTS:
October 1, 2016: Plant Results
OPEN
1st = Rhonda Patterson = Guzmania wittmackii variegated
2nd = Graham Bevan = Quesnelia 'Tim Plowman'
3rd = Maureen Wheeler = Guzmania
3rd = John Toolan = Aechmea distichantha
NOVICE
1st = Sandra Carnie = Billbergia 'Rubra'
2nd = Sandra Carnie = Vriesea 'Evita'
3rd = Sandra Carnie = Aechmea 'Burning Bush'
TILLANDSIA
1st = Graham Bevan = Tillandsia recurvifolia
2nd = Jørgen Jakobsen = Tillandsia 'Houston'
2nd = Graham Bevan = Tillandsia tenuifolia
3rd = Graham Bevan = Tillandsia neglecta
November 5 PLANT RESULTS
OPEN
1st = Noel Kennon = Acanthostachys strobilacea
2nd = Bob Stephens = Neoregelia 'Bevvie Bee'
3rd = Lydia Chinnock = Orthophytum 'Warren Loose'
3rd = Yvonne Perinotti = Neoregelia hybrid
NOVICE
1st = Michael Drury = Guzmania hybrid
TILLANDSIA
1st = Noel Kennon = Tillandsia ionantha X stricta
2nd = Noel Kennon = Tillandsia seleriana
3rd = Jørgen Jakobsen = Tillandsia foliosa
3rd = Graham Bevan = Tillandsia schiedeana – (With 9 beautiful spikes!)
---
WHY HUMIDITY IS IMPORTANT TO PLANTS
(Reprinted from Bromeliad, J. Brom. Soc. New Zealand, March 2007, 47(3)
All plants inhale carbon dioxide through their leaves. This gas is used in photosynthesis. As the plant opens its leaf pores to take in carbon dioxide, some of the moisture in the leaf can escape; thus the plants sweat water vapour into the air whenever they breathe. Dry air causes plants to transpire moisture much more rapidly than humid air. Water in the leaves evaporates very quickly into air, causing the plant to lose moisture at a rapid rate. When leaves begin to lose water faster than the roots can absorb it, disaster strikes in the form of self-defence. In order not to lose more water to the air, the plant will almost completely close its leaf pores. This slows down the flow of moisture from the plant effectively. But, unfortunately, it also reduces the intake of carbon dioxide. Without carbon dioxide, the cells begin to die and the plant looks tired and ill.
The important point to remember is that dry air pulls water out of the leaves faster than the roots can supply the leaves. Under these conditions it does not matter how much you water—it does not help. Overwatering only reduces the amount of air in the soil and invites root rot.
When plant have the right humidity they thrive because they open their pores completely and so breathe deeply without threat of excessive water loss. When the air is moist there is little water loss from the leaf. Damping down the benches and surrounds, also misting leaves, will help keep the air moist. Rapid temperature rise damages plants too. It means that the plant's leaves become warm and physiologically active, while the root system in its solid rooting medium is still cold and physiologically dormant. The active leaves are demanding large quantities of water and nutrients, which the root system cannot possibly supply. Under these conditions photosynthesis, transpiration and other vital plant processes are severely restricted and, as a result, developing flower growth and new growth are damaged. Rapid rise in temperature on sunny days can be avoided by opening vents or doors early in the morning and letting the greenhouse warm up gradually.
A humid atmosphere that is not moving is also particularly undesirable. Damp, stagnant conditions encourage mold and bacterial diseases. A constantly moving, light, and buoyant atmosphere keeps plants vigorous and healthy.
---
MAX WILLIAMS' CRYPTANTHUS TRAY
At our August 2016 meeting Max showed us how he grows his cryptanthus, and using this method has succeeded beyond expectations for him..
You will need:
- 1 x 35 cm dish, plastic terracotta
- 1 plastic dish about 2 cm smaller than the larger dish and drilled with 8 mm holes
- Wicks--as many as the holes—cut from cotton fabric into strips 8 cm long
- Peat moss/Coir Peat/and Perlite – available in 5 litre packs from Flower Power
- Coir – Perlite mix
- Peat Moss
- Wicks and polystyrene
Step 1: Drill smaller dish with 8 mm (1/4 inch) holes and thread in wicks 8 cm (4 inches)
Step 2: Place a few small pieces of polystyrene to keep the dishes apart
Step 3: Place some peat moss across the base over wicks, not too deep
Step 4: Mix 4 parts coir peat with 1 part Perlite and spread over peat moss
Step 5: Add plants as wanted and tuck more mix over roots of plants
Step 6: Fertilize with 1 g Manutec's Orchid Bloom Booster or Neutrog's Strike Back for Orchids to 1 L water once a month and spray every 2nd day with a weak solution of Seasol
---
HOW TO EASE SUNBURNT BROMELIADS
By Paul Turvey 2015
(Reprinted from the Far North Coast Bromeliad Study Group NSW's December 2016 and January 2017's Newsletters)
A response by Paul to a sunburnt bromeliad query on a forum:
I reckon you've done extremely well to only get that much damage! Well done indeed. Apart from a bit more misting, the only other thing I can suggest is a bit more nitrogen in the fertiliser, or, if the pH of your water is alkaline, something added to it to bring the pH back to neutral or slightly acid. This is something I'm trying myself since I have a few vrieseas that routinely do this.
Low nitrogen levels can increase susceptibility to burning (established scientifically for at least some bromeliads) and this would occur especially in leaves that don't produce a red/purple sunscreen—e.g., plenty of foliage vrieseas. Nitrogen shortage in older growth can result if a plant is pushing all of its nutrients into new growth (which is what they seem to do) and there isn't enough nitrogen available to support the whole plant. This overall shortage might just be because there isn't much nitrogen fertiliser in the medium or in the water, but it can also occur if there is plenty of nitrogen fertiliser but the pH is also high—i.e., up above 7.2 or so—because as the pH gets up much above that (my tap water has pH = 7.8), the bromeliads' mechanisms for taking up nitrogen fertilisers do not work. So, they get starved of nitrogen by the high pH even though there is plenty of nitrogen fertiliser around. I have no idea if this might apply to you or how it might work in your situation, but I thought I'd mention it since it's something I'm giving a go for my bromeliads.
Certainly, in my case, I've established that I get much more growth using the same fertiliser mix and concentrations if I acidify the water to bring it down from 7.8 (quite alkaline) to about 6.5 (slightly acidic). I think I've made a few good inroads on the leaf-tip burning and die-back, but I'm still getting a bit.
Calcium hardness of the water is also something that has been linked to leaf damage in vrieseas. My current plan (just starting) is to use citric acid rather than other acids to bring the pH of the tap water down, since citric acid also chelates the calcium in the water so it can be used to eliminate calcium hardness. Do you have hard, limey water—which is very possible in your area? That could also be a contributor affecting just some vrieseas.
Hope this helps.
Paul
Update – by Paul Turvey 2017
Update January 2017: Still as previous article (FNCBSG NSW Dec. 2016) but now with some solid results using citric acid. I've done this now with a thousand or so seedlings continuously for up to two years starting from germination, with a hundred or so bromeliads in one shade house for a year, and with all the hundreds of bromeliads in the garden for the last 6 months. All of them show the best growth ever for me, especially the seedlings, and with the least leaf-end die-back on the few sensitive vrieseas.
Some bromeliads like Aechmea chantinii are doing fantastically better with the green clones developing a beaut dark green to show off the silver stripes. A bunch of different clones had always struggled to get much more than greenish-yellow before over quite a few years regardless of fertilising, so I suspect the abrupt change is a pretty sure sign of what was general nitrogen starvation that has now been corrected by the citric acid in the water.
I'm still getting a bit of leaf-end die-back on a couple of the most sensitive vrieseas but these were long-established plants that would have had a build-up of non-chelated calcium before I started the treatment. I'll have to wait until I can grow new pups on the water + citric acid diet before I make my mind up about those.
---
HANGING PROBLEMS
By Graeme Barclay
Maureen Wheeler (Reprinted from Illawarra Brom Soc. Newslink January 2004)
I found that I was running out of floor space for my bromeliads in my shade-cloth covered pergola and as I had little fence space (and all the commercial pot holders were either too big or made for solid walls) I decided to make my own support.
I employed a piece of steel reinforcing mesh about 1.3m wide x 2.1m long as a frame, and used 1.57 gauge galvanized tie-wire to form holders for the pots. I made a noose around the top of an old squat pot, with enough allowance to extend to the bars, and then put a smaller piece of wire through the bottom of the pot to hold it taught (see diagram and photo below). Then I put my plants (which were in their own pots) inside the squat pots. You can customize the spacing of the pots to allow room for long-leaved plants, and, by using this two-pot method, it allows for easy turning or removal of your plants.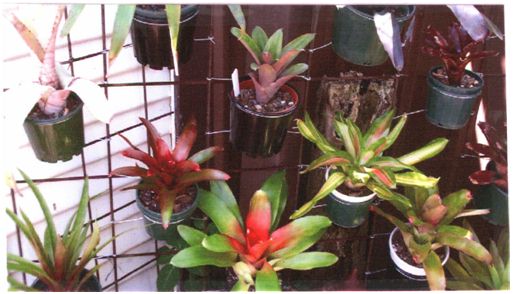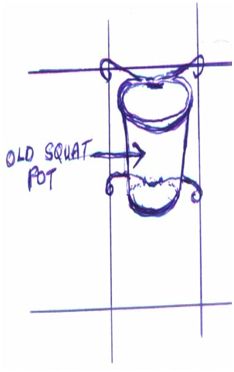 Editor's Note: At our August, 2016 meeting Max demonstrated a similar method to Maureen's to gain extra hanging space. Again using the metal reinforcing mesh, or a green plastic mesh (roughly 6 cm squares) he used a dark-coated 2.0 mm bonsai aluminium wire (from Bunnings) to form a holding wire around the top of the pot, cutting it to the circumference of the pot, and then bending the ends (about 4 cm each end) to slip into the mesh. He then slips the pot into the wire circle. Max finds this dark-coated wire the easiest to use (though the most expensive at $9/roll (working out to be 50c each hanger) but the cheaper wires work as well ($7=20c each) for Bunnings' 1.5 mm galvanized steel and the Reject Shop's 1.5 mm vinyl covered wire at $2=4c each). He also sometimes uses a milk bottle cap stuck to the side of the pot to hold it more upright against the mesh.
---
OPEN DAYS
BROMELIADS AUSTRALIA
Bob, Gleness, Jamie and Jennifer Larnach
49 Rutleys Road, WYEE, 2259

Saturday/Sunday, March 25 – 26, 2017 9.00 am – 4.00 pm
Phone: (02) 4359 3356/04 1847 1754
Email: bromeliadsaust@myaccess.com.au
(Please bring a box for purchase)

Light refreshments available for Gold Coin donation on behalf of The Kidney Foundation

Please note: NO EFTPOS or Card Facilities
COLLECTORS' PLANT FAIR
HAWKESBURY RACE CLUB
1 Racecourse Road, CLARENDON

70 + Growers, Plants – Planters – Books – Flowers - Coffee

Saturday – April 8, 2017 - 8 am – 4 pm
Online ticket $14, under 16 free
Sunday – April 9, 2017 – 9 am – 4 pm
Online ticket $12, under 16 free

Bookings: www.trybooking.com/OGJG
Web site: www.collectorsplantfair.com
For more information: Phone: Linda Ross 1300 133 100
Email: convenor@collectorsplantfair.com
SUNNYBROMS
19TH AUSTRALASIAN BROMELIAD CONFERENCE 30TH MARCH – 2 APRIL 2017
CALOUNDRA EVENTS CENTRE
20 MINCHINTON STREET, CALOUNDRA, QLD
Registration Fees from 1/2/17 - $350
Day Registration: $100
Among the special guest speakers will be Chester Skotak "(Costa Rica) (Famed for his beautiful Neoregelia Skotak hybrids)
Eloise Beach and Dr Theresa Bert (Florida)
Peter and Jocelyn Coyle (Auckland, NZ)
George Stamatis (Elimbah, Qld)
Peter Tristram (Bonville, NSW) and
Bruce Dunstan (Brisbane) whose topic is "Variegated Alcantareas"
See: for further details
Email: sunnybroms@icloud.com
BROMELIAD FAIR
Hundreds of exotic bromeliads from beeautiful to bizarre
Rare and unusual Tillandsia, colourful Neos and Guzmanias, spectacular Vrieseas, dazling Aechmea....
Broms for all tastes !
Saturday/Sunday, April 29-30, 2017
You will find us at:
Concord Senior Citizens Centre:
9-11 Wellbank St, Concord, NSW 2137
Sunday 10-4, Sunday 9-12
FREE ENTRY - and bring a box
- EFTPOS - Visa, Mastercard, Debit Cards
- Books and fertilizer for bromeliads also available.
For more information please contact:
Garry Flemming - 02-6553-9868 / 0413-178-884
Peter Tristram - peter@bromeliads.com.au
---
Click HERE to return to Illawarra Bromeliad Society "Club News Page".

---
Updated 16/02/17
---