ILLAWARRA BROMELIAD SOCIETY Inc.
Club News.
---
Click HERE to return to Illawarra Bromeliad Society "Club News Page".

---
NEWSLINK
January 2013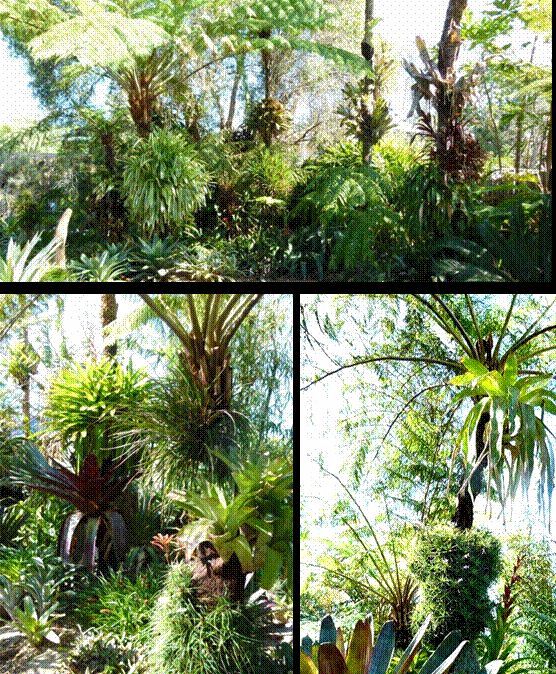 Growing Bromeliads Epiphytically (in Laurie's Garden)
Photographs by Laurie Dorfer
---
- Articles appearing in this issue of NEWSLINK are for information purposes only and are not necessarily endorsed by the Committee or the Illawarra Bromeliad Society.
- The Society is, by the holding of meetings, displays and competitions, to provide a forum for the people of the Illawarra region who are interested in the culture and collection of bromeliads.
- Under the provisions of the Privacy Act, use of names and references to private details, such as illness, holidays, birthdays and items of a similar nature, may only be published with the written permission of the person concerned.
---
NEWS IN BRIEF . . .
POINTS SCORE WINNERS:
Hearty congratulations to our Points Score winners for 2012. Sandra won with the highest points in both the Novice and Tillandsia sections and Jørgen took home the trophy for the Open section. But thanks go to all of our members who participate in our monthly competitions, bringing in their beautiful plants for us to learn from and enjoy.
---
MONTHLY RAFFLE PRIZE ROSTER:
We will again be using the roster system for providing prizes for our monthly raffles. Bromeliads are, of course, the preferred option, but if you are unable to spare one then items such as potted herbs, garden tools, etc. are acceptable. Also, if you are unable to attend the meeting—and/or are unable to supply a raffle prize when rostered—it would be appreciated if you would either 'work a swap' or speak to Elizabeth about getting a fill-in for your month. As our membership fees are kept very low, we rely on these raffles to help defray the costs involved in the running of our Society, and so your support is very necessary and very much appreciated.

| | |
| --- | --- |
| Feb | Graham Bevan, Ted Clare, Maureen Wheeler, Laurie Dorfer |
| Mar | Phillip Robinson, Yvonne Perinotti, Rhonda Patterson, Eunice Spark, Noel Kennon, Betty Ellis |
| Apr | Freda Kennedy, Hetty Kerstholt, Gary Claydon, Robyn Firth, Chris Butler, Joan Banks |
| May | Nina Rehak, Glenrae Barker, Loreen Whiddett, Terry Stedman, Carole Taylor, Lyndell Gollings |
| Jne | Eileen Killingley, Catherine Wainwright, Maadi McKenna, Steven Dolbel, Stephen Wain, Barbara Jones-Beverstock |
| Jly | Michael Leggett, Stephen Astill, Lydia Chinnock, Sandra Southwell, Carmel Glanville, Anne-Marie Brun |
| Aug | Heather Thain, Laurie Irvine, Russell Dixon, Sharyn Baraldi, Max Williams |
| Sep | Neville Wood, Fred Mirande, Suzanne Burrows, John Carthew, Monica De Clouett, Gloria Purdon |
| Oct | Maria Jakobsen, Bruce Cluff, June Smith, Doreen Netting, Jan Stammers |
| Nov | Steve Morgan, Meri Stefanidakis, John Toolan, Beth Clague, Christa Thomas |
---
OUR LIFETIME MEMBER, PHILLIP ROBINSON, HONOURED FOR HIS WORK WITH THE WOLLONGONG BOTANIC GARDEN:
Phillip was honoured, along with his friend Barry Baird, at a ceremony held on December 13, 2012 for the work that they are doing in documenting endangered and threatened plants in the Wollongong Botanic Garden.
The ceremony was part of the Rise and Shine Awards which is run by the Wollongong Shire Council to recognise work done by volunteers in the area and has been ongoing for 27 years.
Phillip's award came under the Environmental Improvement Program Encouragement Awards and a plaque was presented to him at the ceremony by the Lord Mayor.
Congratulations, Phillip!
To learn more about the work that Phillip and Barry Baird are doing, see the article on pp 7-8 which was featured in the Illawarra Mercury in December.
---
LIBRARY:
We have an excellent library of books, journals and tapes which you are invited to borrow from; however, please be aware that these are let out on a monthly basis. Jørgen, our Librarian, has a list of what is available.
---
GUEST SPEAKER – MARCH MEETING:
At our March meeting we will have Steve Falcioni, General Manager of Organic Crop Protectants Pty Ltd to speak on environmentally friendly garden products. There will be products for sale, discounted for our meeting.
---
COMING EVENTS :

February 24

HILLS DISTRICT ORCHIDS OPEN DAY – 182 Windsor Road, NORTHMEAD (next to "The Home Team" (Park in Mary Street or Windermere Ave) 9 am – 4 pm www.hillsdistrictorchids.com

March 15 – 18

'COOL BROMS' BROMELIAD CONFERENCE – AUCKLAND - www.bsnz.org

April 13 - 14

COLLECTORS' PLANT FAIR – HAWKESBURY RACE CLUB, CLARENDON
For information: www.collectorsplantfair.com Phone: (02) 4567 2026/04 5851 5738 Entry prices include free parking: Saturday $12 or $10 prepaid, 8am–4pm; Sunday $10 or $8 prepaid, 9am–4pm; Weekend $12 prepaid only. For bookings: collectorsplantfair@bigpond.com – Speaker Program: $33 pp.

May 10 - 12

PORT MACQUARIE ORCHID AND BROMELIAD SOCIETY – AUTUMN SHOW - PORT MACQUARIE PANTHERS

May 25 - 26

BROMELIAD SOCIETY OF AUSTRALIA – AUTUMN SHOW – BURWOOD RSL

July 13

BROMELIAD SOCIETY OF AUSTRALIA – 50th Anniversary Lunch 11am - Burwood RSL. All ex-members & Friends.

Aug. 24 - 25

PORT MACQUARIE ORCHID AND BROMELIAD SOCIETY – SPRING SHOW

Sep. 7 - 8

ILLAWARRA BROMELIAD SOCIETY – SPRING SHOW – UNITING CHURCH HALL, Russell Street, CORRIMAL - 9am–3.30pm

Oct. 12 - 13

BROMELIAD SOCIETY OF AUSTRALIA – SPRING SHOW – BURWOOD RSL
July 7, 2012: Plant Results (Sorry, this was missed from our October Newslink!)
OPEN
1st Neville Wood Vriesea [fosteriana] 'Megan'*
2nd John Carthew Billbergia sanderiana
3rd John Carthew Billbergia 'Hallelujah'
3rd Neville Wood Neoregelia 'Boldstreak'
3rd Neville Wood Neoregelia 'Pink Sensation'
NOVICE
1st Bob Stephens Guzmania hybrid 2nd Yvonne Perinotti Neoregelia concéntrica X carolinae
3rd Laila Astill Neoregelia 'Gloria'
TILLANDSIA
1st Sandra Southwell umbellate
2nd Sandra Southwell velickiana
3rd Chris Butler guatemalensis
October 6, 2012: Plant Results
OPEN
1st Jørgen Jakobsen Quesnelia (testudo) 'Farro'* - See note below
2nd Jørgen Jakobsen Aechmea nudicaulis var. aequalis
3rd Jørgen Jakobsen Guzmania 'Limones'
NOVICE
1st Ann Kennon Vriesea 'Cathy' 2nd Ann Kennon Aechmea (organensis) 'Graceful'* – See note below
2nd Maria Jakobsen Quesnelia (testudo) 'Farro'*
2nd Laurie Dorfer Aechmea gamosepala var. nivea
3rd Sandra Southwell Neoregelia wurdackii
TILLANDSIA
1st Sandra Southwell deppeana
2nd Ann Kennon leonamiana
3rd Sandra Southwell bergeri
3rd Laurie Dorfer multicaulis
*Cultivar names given to species: bracketed because these days this part shouldn't be included in the name!
November 3, 2012: Plant Results
OPEN
1st Nina Rehak Aechmea nidularioides
2nd Chris Butler Aechmea biflora
3rd Jørgen Jakobsen Neoregelia labeled 'Lokeland Hawaiian Rose' but see note below!
NOVICE
1st Sandra Southwell Vriesea rubyae
1st Lydia and Ian Chinnock Aechmea caudate var. eipperi
1st Laurie Dorfer x Neophytum 'Ralph Davis'
1st Laurie Dorfer Neoregelia 'Rainbow Carcharodon'
1st Laurie Dorfer Guzmania kareniae
2nd Laurie Dorfer Neoregelia 'Pink Spider'
3rd Stephen and Laila Astill Cryptanthus 'Black Mystic'
3rd Ann Kennon Orthophytum gurkenii
3rd Anna Stewart Billbergia pyramidalis var. concolor X 'Windigig Special'
TILLANDSIA
1st Graham Bevan albertiana
2nd Sandra Southwell stricta X ixioides
3rd Lydia and Ian Chinnock bergeri – 3 inflorescences
3rd Jørgen Jakobsen foliosa
3rd Laurie Dorfer ionanatha
NOTES ON PLANTS BROUGHT TO OUR OCTOBER/NOVEMBER MEETINGS:
Aechmea 'Graceful' – previously labeled Aechmea gracilis in Australia. Derek Butcher found that there is no A. gracilis in Australia and plants labeled thus should have been labeled Aechmea organensis, of which there are three sizes. A. organensis small form now = Aechmea 'Graceful'. (See www.bromeliad.org.au/pictures/Aechmea/organensis.htm)
Aechmea nidularioides: This very showy plant grows epiphytically in the hot, humid forests of Amazonian Peru and Colombia at elevations of 300 to 3500 feet. It has shiny, reddish-green leaves which can sometimes reach 2 feet in length, and the inflorescence is cone-shaped rising about 10 inches above the centre of the spreading rosette. It is widely cultivated for its ornamental beauty. During flowering the floral bracts are red but turn yellow during fruiting, its petals white. Nina confirmed that her plant is indeed intensely tropical, needing special care during the cooler months; however, Laurie said that he had a plant which was less cold sensitive but had an inflorescence which was more salmon than red.
Guzmania kareniae: Laurie's lovely plant comes from one collected by Bruce Dunstan in Ecuador and The BSI Journal of May-June 2007 in fact does tell us that this is a fairly recent new discovery of a rose-pink-bracted species from northwestern Ecuador, found growing in mountain cloud forests at an elevation of around 750 m. It closely resembles Guzmania squarrosa but one difference is that G. kareniae has uniformly green leaves while G. squarrosa has reddish striate foliage. The primary bracts spread at 450 to 900 from the main stem and have three zones of color: closest to the stem is reddish brown and green, then bright pink or pink and yellow-green, and a bright pink at the farthest end of the bract. Named for Mrs. Karen Melk, for her support of plant systematics at the Marie Selby Botanical Garden.
Guzmania 'Limones': One of the beautiful large, showy guzmanias which came from 'Exotic Plant' Belgium somewhere before 1995. It has a European patent, with unreleased parentage, but is thought to be a possible hybrid of G. rubrolutea. It's wine-green shiny foliage and inflorescence with crimson primary bracts and yellow blooms in the form of dense, spherical clusters make it very beautiful indeed. A note on the Garden Web Forum, written by our own Neville, says, "From what I have read, it is often mass produced in Holland and Belgium from tissue culture and shipped to many other countries for the flower trade." Being such a stunner this would sound about right!
Neoregelia 'Lokelani'/'Lokeland Hawaiian Rose': While checking to see if I had the name right for Jørgen's pretty little neoregelia I came across an article by Derek Butcher which makes me believe that it should be more correctly labeled as Neoregelia 'Lokelani'. In Derek's article, Derek the Hybrid Detective: DD1006 Neoregelia 'The Rose' now 'Lokelani' (http://www.bromeliad.org.au/news/DD1006.htm) he tells us that [in 2006] he had received an email from Lisa Vinzant in Hawaii advising him that the plant we are growing in Australia as 'The Rose' is really 'Lokelani'. Derek felt that the problem stemmed from Shane Zaghini's book, Bromeliads – A Guide to the beautiful Neoregelia (1994) page 11, where a plant was given the name 'The Rose', with origin unknown, and the Cultivar Registrar at the time, Don Beadle, accepted this information as being fact. But apparently, in 1994 at the World Bromeliad Conference, Bob Okazaki had donated a 'Lokelani' for the special auction and ever since then the plant has been known by this name in the USA. However, Derek wrote that it would appear that someone from Australia, visiting Bob just before 1994, brought back an offset with the thought that this plant was being called 'A Rose' which is what the Hawaiian 'Loke' means. ['Lani' is translated as 'Heavenly'.]
So, with all of the clues on the label of Jørgen's lovely plant (Lokeland Hawaiian Rose) I think that we can accept that it is actually Neoregelia 'Lokelani' [Heavenly Rose].
It is described in the BSI Online Cultivar Registry(http://www.bsi.org/bcr/Neoregelia/Lokelani.html) as: "A small, compact, bright pinkish-red rosette with undulating leaves having rolled under strongly apiculate [terminating abruptly in a little point that is not particularly stiff tips – white dots and spots with the centre having the appearance of a rose at maturity. Centre colour is light pinkish white for 2/3 of the length of the central leaves."
Neoregelia wurdackii: This interesting neoregelia which Sandra brought to our October meeting comes from the Amazonian rainforests of Peru where it grows as an epiphyte at 550-750 m. Coming from this area it belongs to the Hylaeaicum sub-genus of Neoregelia [as distinct from the Neoregelia sub-genus Neoregelia which are found along the eastern coastline of southern Brazil] and as such could be a little more cold sensitive than sub-genus Neoregelia which we are more familiar with. Like the other dozen or so species in Hylaeaicum (e.g., N. pendula var. brevifolia and N. eleutheropetala) which are mostly small and propagate by long stolons, they all grow epiphytically and not terrestrially. The inflorescence is a dense cluster of white-petaled flowers, sunk deep into the centre of the rosette and the leaves are leathery. Neoregelia wurdackii closely resembles N. rosea and both require ample light to develop their interesting shapes to their full extent.
Orthophytum gurkenii: This particular species of Orthophytum is one of those lovely ones which has light-coloured wavy patterns on a darker background. Andrew Steens, in his book, Bromeliads, the connoisseur's guide tells us that, "Although most of the Orthophytum genus look tough and hardy, in fact they tend to be quite touchy to grow. In temperate climates they hang on, but never really flourish. If the climate is wet as well as cool, and if the soil is not free-draining, they often rot away completely. However, give them a drier atmosphere, a free-draining soil and a few extra degrees of warmth and some stunning plants will result. O. gurkenii pups prolifically and also sets seed fairly easily."
Quesnelia 'Farro'/Q. testudo albomarginata: The two lovely quesnelias brought to our October meeting by Maria and Jørgen Jakobsen as Q. testudo albomarginata should have been labeled Quesnelia 'Farro'. 'Farro' is a natural cultivar [species] of Q. testudo, endemic to Brazil, having flavo-margination (yellowish striping to the edges of the leaves) as well as random other stripings on some leaves, probably responsible for the 'variegated' naming. I consulted Lynn Hudson from Cairns on this plant and she said that it is a great plant up there, taking all day sun and giving lots of pups. This is another of the beautiful plants introduced into Australia by Olive Trevor (of the Olive Branch Nursery in Brisbane).
---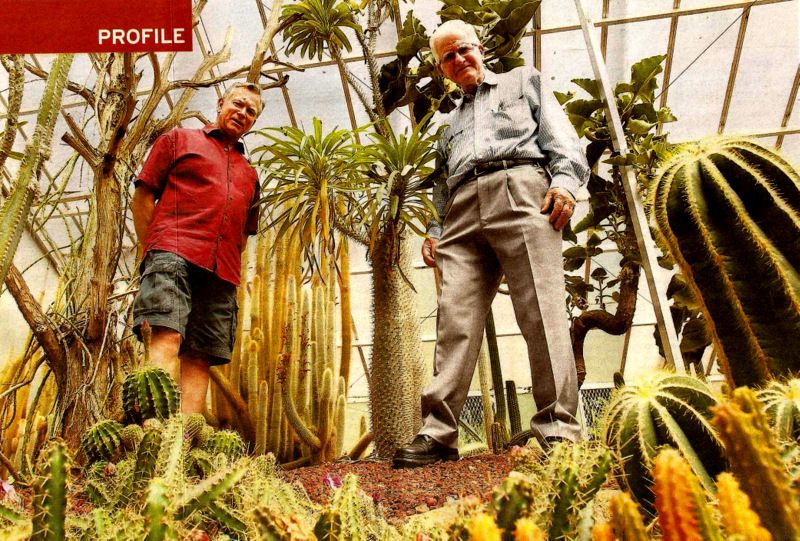 Volunteers Barry Baird (left) and Phillip Robinson inside one of the glasshouses at the Wollongong Botanic Garden, where they carry out their work. Picture: DAVID TEASE

The following article and photograph featuring our Lifetime Member, Phillip Robinson, is reprinted with the permission of the Illawarra Mercury.

GUARDIANS OF THE GARDEN
Phillip Robinson and Barry Baird work together as scholarly volunteers documenting endangered and threatened plants in Wollongong Botanic Garden, writes JODIE DUFFY, WEEKENDER Saturday, November 17, 2012 - www.illawarramercury.com.au Phillip Robinson never married or had kids, but he knows the plants of the Wollongong Botanic Garden like a father remembers the smile of his own child. His memory of them stretches back 20 years when he first began as a volunteer guide, taking visitors past his favourite iconic trees, enjoying the diversity of the wet and dry garden beds, the stunning glasshouses and proudly showing off the magnificent rainforest. "I've always been interested in plants and studied botany at university," says Robinson. "I'm getting too old for the walks now, but I still go along and help with the identification of plants, and last month I took a group out on my own."

While he is now taking a back seat as a guide, Robinson has a different volunteer role cataloguing his wealth of knowledge of the garden before it's lost forever. The garden is brimming with endangered and threatened species; but in the past, records were not kept on many of the plants. "The garden was established before computers so a lot of information has been lost," he says. "What we're doing now will hopefully go some way to filling in the gaps."

The job is time-consuming and although he's already spent years on the project, he's not even a quarter way through the huge task. At 75, and, with failing health, he says it won't be finished in his lifetime. Still, though, he's willing to give it a go with the help of Barry Baird, a fellow volunteer who is 10 years his junior Baird Is the computer brains behind their two-man operation. Each Monday the pair compare notes, with Robinson handing over the technical information on each plant for Baird to enter onto a database. As they progress through each section, a publication is written on their findings. "I'm just blown away by Phil's knowledge," says Baird. "It's outstanding really. He's so driven and will follow things through with an amazing degree of effort."

In a previous life both were science teachers, with Robinson retiring from the Department of Education in 1997 and Baird in 2006. Volunteering has become an important part of their lives and the City of Wollongong has received significant benefits from their combined efforts.

"Being a volunteer at the Botanic Garden is great because you can expand yourself as far as you like," says Baird. "For example I've developed skills in certain areas and I've identified a need here. It's good because I feel like I'm really achieving something. But the reality is there are so many different things you can do here as a volunteer. You can fund-raise, help out on the kids' program or propagate plants."

For Robinson, who lives nearby, walking to and around the garden several times a week has an added health benefit. "I really enjoy my work here and I love the outdoors," he says. Robinson walks through a garden bed and stops to measure the leaves and flowers of one of the endangered plants. Not quite sure of the species, he will take the information back home where he could spend days searching his extensive botanical library in an effort to identify it. It can be a painstakingly slow but rewarding process.

"I research what the plants are, what their origins are and what they might be used for. I'll also try to find out if there's any ethnic connection," he says. "There are plants here from all over the world. It can take a long while to identify them and even when I do I might not be correct. If it's an unusual plant and there are only a couple of species in the world then I'll have some hope of being able to work it out. But there might be a hundred different species and that's when it gets a lot harder. If I make a mistake then in the future somebody will correct it. That's the way that science works anyway."

The information Robinson gathers will be used as a reference point for the garden's education centre but will also help future curators design further collections. "This all started because we came to the conclusion that the knowledge that I've stored in my head should be written down so it's not lost," he says. "We began with the self-guided walks around some of the collections, but now we've decided to catalogue as much as we can."

Huge sections were planted and sourced by the late Anders Bofeldt, who would bring back seeds from his travels abroad. "Anders was a tremendous loss," says Robinson. "He was a guru. He knew exactly what was here and where each plant came from. Unfortunately he didn't always keep notes about where in the garden he would plant the seeds and so that information has been lost with him. What we've managed to do here is just a drop in the ocean. This project won't be finished in my lifetime but it's important work that needs to be done."

Robinson is saddened that the general public is unaware of the unique and special elements of the Botanic Garden. "The garden is full of endangered species which may be important to the future survival of each plant," he says. "For example if you look at Norfolk and Lord Howe Islands, they have a lot of species that are endemic, and in the event that a cyclone wipes them out there might not be a chance of replacing them. However, as we have many of the species growing here in the Garden, through propagation we may be able to one day come to the rescue."

The volunteers are a vital part of the Botanic Garden because the employed gardeners are busy with a large maintenance program. "I've never regretted any of the time I've spent here because I've always felt that I'm really achieving something, and if not, well at least I've tried," Robinson says.

The Friends of the Botanic Garden, of which Robinson and Baird are members, is a group of volunteers who assist with the garden's development through fund-raising and other works.
---
TO FEED OR NOT TO FEED: 'THE GOOD, THE BAD, AND THE UGLY'!
By Nigel Thomson, Noosa, Queensland
(Extracted from the Proceedings Book of The 16th Australasian Bromeliad Conference, Broms on Arafura, Darwin NT, 7th – 10th April, 2011)
This is a very controversial subject. You have many people who say that feeding bromeliads is not necessary and not right, and then you have others who say FEED, FEED, FEED!!! I happen to fall into the second category and will give my reasons why:
• Bromeliads are opportunists, the crows of the plant world! Like crows, which even eat dead cane toads off our roads, bromeliads will take up any form of nutrient offered to them. Being the ultimate survivor, bromeliads can survive without any food offered by us, just like in the wild.
• However, I am inclined to look at feeding in a different light. If you can have your plants just survive—or you can have them grow bigger and better with feeding—why wouldn't you feed them?
| | |
| --- | --- |
| | The plant on the left not fed as a pup. The plant on the right fed as a pup and then fed heavily again. Both plants grown under fifty percent shade cloth. |
| | Both plants fed heavily as seedlings. The plant on the left was grown under bright light, fifty percent shade cloth. One year ago the plant on the right was re-fed and grown under seventy percent shade cloth. This illustrates how you can manipulate the size, colour and shape of your plants. |
There are many ways of feeding your plants. Some growers like to use natural fertilizers such as blood and bone, organic plus, fish and seaweed emulsions, as well as many more. Others prefer to use chemical-based fertilizers, with which you know exactly what components are in them and thus can control the size, shape and colour of your plants.
There are two ways of feeding your plants:
1. To bottom feed—which means giving fertilizer around the base of the plant to feed the roots; or
2. To foliar feed, in which you mix your fertilizer in water and either spray or water your plants with it.
If you foliar feed, you can again use natural or chemical fertilizers. Your natural options include fish and seaweed emulsions and blood and bone—e.g., Natrakelp, Seasol, Charlie Carp and Power Feed to name but a few.
Seasol contains potassium and trace elements but no nitrogen and therefore is a tonic and not a growth fertilizer. It builds up cell structure and makes plants more resistant to extreme heat and cold.
Chemical fertilizers—to foliar feed—include most orchid fertilizers such as Peters Professional, Thrive, and Wolfgang's fertilizer which is sold by most societies. If you decide to foliar feed, you need to feed regularly—every week, every two weeks, or even every month. Foliar feeding once in a while does no good and is better left undone. There is an old saying, "Feed weekly, but weakly." It is better to feed regularly but at half the recommended strength.
To bottom feed, in my opinion, is the easiest and especially if you use a slow-release fertilizer like Osmocote then it is done for a fixed period and you don't have to worry about forgetting to foliar feed every week.
Some 'experts' will tell you that once a bromeliad is past its seedling stage that it will not take up nutrients through its roots. This is absolute nonsense, as if you cut off all the roots of a mature plant and repot it with bottom fertilizer, in a very short period of time it will form new roots and start taking up the food offered. (Remember the crow!)
| | |
| --- | --- |
| | |
| Both plants fed as seedlings, then plant on right potted up and fed heavily twelve months ago. | Originally all three plants were the same size. The plant in the middle and on the right had hydroponics drippers put in base of pot and fed weak liquid fertilizer, 50 ml seven times a day. The one in the middle was fed for five months and the one on the right was fed for six months. |
Now, having told you all to feed your bromeliads, there are certain rules you need to follow to have good results.
• Two genera must be fed differently to all the others: Neoregelias and Billbergias should be treated differently to maintain good colour and shape. However, I believe that even these two genera must be fed to give them a good start as pups. If you prefer foliar feeding, then use high potassium and LOW or NO nitrogen fertilizer, as this will prevent them from becoming long, lanky and green. If you prefer bottom feeding, as I do, then use a similar slow release fertilizer (low nitrogen and high potassium), but for a short release period, like 5 to 6 months. This gives the plants a good start in life and when the fertilizer runs out, you will get good shape and colour.
• But what is very important with feeding these two genera is to combine good light with your feeding. I have found that certain neos can be fed quite heavily as long as you grow them with 50% shading as this enables them to grow much larger and still keep a good shape and colour.
• For all other genera, including Guzmania, Vriesea, Alcantarea, Aechmea, Portea, Nidularium and even Tillandsia, you can feed any fertilizer containing nitrogen, phosphorus and, particularly, potassium.
• For these I use slow release and foliar fertilizers containing high nitrogen and high potassium, as this gives you bigger, healthier plants more resistant to cold and to heat. Feeding also gives you larger and better flowering plants. When your plant is in flower, if you give it plenty of fertilizer it will have more pups and more vigorous pups. This is pure logic, as so much energy is taken up by flowering that if you do not replace the food to the plant it cannot produce as many, or as good, pups. If you cut off the flower spike when it is still immature, this will also encourage better pupping.
I have found that with neoregelias and billbergias, feeding very heavily when flowering will give you many pups. But once these have been taken off, feed [the mother plant] sparingly with short release fertilizer to keep good shape and colour.
So, to summarize: You can not feed your plants at all and still have good colour and shape, but it will not be as big a plant or have as many pups. Or you can feed and have larger, better flowering and better pup production—as long as you combine your feeding with good light!
---
GROWING BROMELIADS AS EPIPHYTES
Epiphyte: a plant that grows on or is supported by another plant. By Laurie Dorfer Many bromeliads grow naturally as epiphytes, which distinguishes them from most other garden plants when grown this way. This concept has always fascinated me and is certainly an appealing feature to many. Instead of growing them in pots or in the ground, they can be attached above ground level giving another dimension to your garden.
Many collectors would appreciate that ground space soon becomes limited, so if you have trees or other forms of vertical space, bromeliads provide a suitable option for saving space.
Most trees are suitable except those that lose their bark seasonally. Rough bark with fissures--e.g., Callistemon spp.--is best for good root attachment. Crown density should not be too high as most bromeliads prefer filtered light. However species selection allows most trees to be accommodated. If crown density is high with a low branching crown select more shade loving bromeliads e.g., Aechmea fulgens, A. weilbachii etc.; if crown density is low with a high branching crown select more sun loving plants e.g., Vriesea philippo-coburgii, A. nudicaulis, etc. Light requirements are no different to that experienced when growing in pots or in the ground.
Both evergreen and deciduous trees may be used; however caution should be exercised with some European deciduous trees with large leaves that drop over a very short time period. These can smother bromeliads and potentially cause rot. In this situation choose bromeliads with a more tubular habit such as billbergias or quesnelias which clog less than the more open type vases. Some deciduous trees are often great for the patterned leaf vrieseas which shows off their colour with the winter sun but are protected in summer.
I have found the trunk of mature tree ferns to be exceptional hosts also. However, the adventitious roots that they produce along their trunks are sometimes so vigorous that they start to engulf the bromeliad. They not only grow around the roots of the bromeliads but also within the leaf bases where moisture is plentiful. The adventitious roots can be trimmed back around the smaller bromeliads. The larger bromeliads, or the stoloniferous form, work best towards the lower trunk region where such adventitious root growth is greatest. These roots also assist in the attachment of the bromeliad, particularly for the larger ones such as Alcantareas where removal is virtually impossible once established.
Water and humidity would be the most crucial aspect when growing bromeliads as epiphytes. Unlike plants grown in soil/potting media, the roots of epiphytes develop primarily for support, and nutrition is absorbed through the leaves. Therefore they are subject to drying out much faster. The higher the plants are from the ground the less the humidity and the greater the air movement that would be experienced. As this increases transpiration, access to regular moisture is necessary.
Water should always remain within the cup and be topped up at each watering. Local conditions and seasons will determine your watering regime but I generally water 3 times a week in summer and 2-3 times a week in winter. Even though it is cooler in winter and one would expect to provide less water, in Wollongong dry/strong winds are common throughout this period which dry out epiphytic plants very quickly.
Small to medium sized bromeliads are best attached as a colony in numbers of at least 3 to 5 or more plants. When attached in these larger numbers, a greater amount of water remains in and around the plants which increases humidity as it evaporates and creates a microclimate, being conducive to growth. This seems rather important in maintaining vigour as our local growing conditions are not consistent with water availability as compared to their natural environment.
When attaching plants in colonies it is always a good idea to work from top to bottom. This prevents possible leaf damage while attaching the next plant. Also, stay with the same species in each group as this looks most natural, and, furthermore, is more visually pleasing when presented in a colony, providing the instant WOW! effect.
Larger specimen plants are usually attached singly as they tend not to dry out as quickly due to the large volume of water held within their vase. Also, to maximise the visual effect take their mature size into consideration—the larger species always look much better at the bottom with smaller species nearer the top.
Growing bromeliads as epiphytes also gives you the added benefit of being able to observe the leaf markings on their undersides. Some are more appealing when viewed from beneath, such as the banding on Neoregelia spectabilis and the discolor leaves on Vriesea sucrei, etc.
Generally, warm temperatures and longer day lengths (growth period) are conducive to greatest root growth; however this is dependent on water availability and humidity. Speed of root growth and volume seems species specific. New root growth is sometimes observed in as little as 2-3 weeks, but with some it can take several months or longer.
Plant attachment can be undertaken any time of the year, although generally I have found it the most favorable during the growing period for quick root attachment. However, where the plants are to be positioned in full sun, I prefer to carry this out during the cooler months to allow the leaves to acclimatise to altered light intensities.
I like to use black nylon bird netting for attachment as it is strong and lasts many years. It usually comes in a 3 m wide roll and I cut from the roll in approximately 150 mm wide strips for most plants and up to 200 mm wide for larger/heavier plant—the wider the strip the greater the strength. Because the nylon is 3 m wide, this becomes the length when tying it on. The nylon netting is stretched out providing a multi-stranded string/rope appearance and pulled tight as you proceed. Initially I will wrap one end around the trunk/branch and tie off—this will stop it from slipping when securing the plants. The bromeliad is then positioned on the trunk/branch and fastened by wrapping the nylon netting several times around the plant base /pruned root ball and the trunk/branch. You have to wrap around the trunk/branch at least 3 to 4 times before the plant is sufficiently secured to add the next plant. It depends on the roughness of the bark on how many times you need to encircle the trunk/branch– rough-barked trees usually hold the nylon in place and can be secured without the plant moving in approximately 3 wraps, while smooth barks take several wrappings. As you secure multiple plants, this can be a little tricky when applying the proceeding plants so as to prevent the previous plants from loosening. A second person is sometimes very helpful or as I have occasionally done is literally used my head to hold the plant in position until I have tightened the nylon. It helps to keep the length of the netting scrunched up in a ball in your hand as you wrap the tree/branch as it can tangle around rough sections of bark etc. and becomes difficult to pull around. Once the last plant is secured, the nylon is tied off and excess trimmed off. Normal expansion of the trunk/branch usually snaps the nylon in several years without the risk of ringbarking. Do not use wire or a material that will ringbark or damage your host plant.
Pups tend to attach more readily as root production seems more vigorous than mature plants and often mother plants are incapable of producing new roots. Where a mother plant is used, try to tie it on with the emerging pups close to the trunk as it is these that generally attach. Even if pups are used I find insufficient roots often develop within the first growing season to maintain adequate support. Without strong attachment I usually find they fall off the tree during wet/windy conditions. As the plant develops the weight increases, often causing it to tear off, particularly if a long flower spike develops. Therefore it is important that the tie material lasts several years. Also, after several years of development, even with good root growth, the bark of some trees may fail causing the plant to fall to the ground--this is normally during wet and/or windy conditions. There have been several times where I have wished I had situated the plant in a branch fork instead on the vertical surface of the trunk or branch. Where soft or smooth barked trees are your host, branch junctions/forks are sometimes the best position.
As further pups develop in close proximity to others pups in the colony planting, they interweave with one another and provide collective support. I have found this imperative in maintaining support on fast- growing smooth barked trees where growth is very fast and snaps the tie about every 12-18 months as they increase in trunk diameter. The initial placement of adhesive glue (I use clear sealant) behind the plant followed by the tie and a sufficient number of plants to surround the entire trunk has allowed me to successfully attach broms to smooth barked trees and palms.
When mature plants/clumps are attached I will remove most of the roots/media leaving just enough to assist in the attachment. Once the roots from those which have established within a media are exposed to the elements they will die. It makes little difference if these roots are removed or retained. The potting media/roots are cut off with a serrated bread knife on the side of attachment as close to the base of the plant without damaging it. When attaching plants their base should be touching the host tree for quick root attachment. If attaching to a tree fern trunk I will leave much of the root ball intact including the potting media, to encourage the adventitious roots of the fern to grow within which assists attachment.
As wind and the effects of sunlight are greater higher up, I have found that the harder leaved bromeliad—e.g., aechmeas—are more resilient to the drying effect and the leaves can withstand strong wind gusts without damage. Also, conflict with branches and leaves is less likely to cause damage. The softer leaved bromeliads seem better lower down where protection from the elements is greatest.
When positioning the bromeliads consider their growth habit when determining their allocated space. Tight clumping plants maintain their position and tend to require much less space for future growth, while stoloniferous bromeliads climb the trunk or branch and slowly move about requiring much more space—these can be planted lower as upward growth is usually expected.
As conditions are harsher when growing bromeliads epiphytically, maximum colour is often achieved, particularly with aechmeas and neoregelias. Also, fewer pups are generally produced. To increase pup production on the stoloniferous bromeliads such as Aechmea 'Bert', A. orlandiana, etc., I have found that cutting through the stolon about ¼ depth with a budding knife around as much of the circumference that access allows helps. This severs much of the vascular system which is concentrated nearer the periphery stimulating the production of further pups as usually only one pup is produced. In the early days I would cut right through the stolon while leaving the plants attached, but I often found that insufficient roots on the pup were produced, causing it to slowly slip down and often peel off. Partially cutting through maintains support while stimulating greater pup numbers.
To maintain and encourage growth, fertilising is highly recommended. For epiphytic growing foliar fertilising is best done using a weaker solution but on a regular basis. Phostrogen every 2-3 weeks in spring, summer and autumn and every 3-4 weeks in winter works well for me.
To grow bromeliads successfully as epiphytes, an environment which supports their particular requirements should be provided if possible, and the results will be much appreciated.
---
AN UPDATE TO OUR LIST OF PRIVATE GARDENS AND NURSERIES TO VISIT
VISITS BY APPOINTMENT ONLY
EXOTIC LIFE – Tillandsia Specialists – Tandy's Lane (adjacent to Uncle Tom's Pies, Old Pacific Highway, MULLUMBIMBY – just 15 minutes north of Byron Bay). This nursery has now changed hands (Sharon is the new owner) and the website tells us: "We supply 100s of nurseries and garden centres across Australia as well as exporting our plants to over 7 countries. Contact us for information and price list."
I understand that there are excellent prices on bromeliads other than tillandsias which they are happy to mail. Phone: (02) 6684 4982/Fax (02) 6684 4145; Mob. 04 1682 0295; Email: contact@exoticlife.com.au
Len and Sheryl Waite - 4 Prudence Court, UPPER CABOOLTURE, 4510.
Phone: (07) 5496 7795/Email: lwa50752@bigpond.net.au
A correction to our previous listing as Sheryl is no longer Secretary of the Sunshine Coast Bromeliad Society Inc. but remains a member. Len and Sheryl's is a truly lovely garden, with plants for sale.
---
AN UPDATE TO THE BROMELIAD SOCIETIES AND THEIR MEETING TIMES
FRASER COAST BROMELIAD SOCIETY INC. Meets on 4th Saturday of the month, except December, in members' gardens at 1.30 pm, with plant sales at 1.00pm.
President: Debbie Kruger Phone: (07) 4128 6026. Email: deborahkruger@exemail.com
GLASSHOUSE COUNTRY BROMELIAD SOCIETY INC. Meets alternately at Mary MacKillop Centre, Peachester Road, BEERWAH and members' homes, at 2.00 pm on the 1st Sunday of the month. PO Box 424, Glass House Mountains, Qld 4518
President: Pat Pennell – Phone: (07) 5438 7375; Secretary: Keith Pennell
GOLD COAST SUCCULENT AND BROMELIAD SOCIETY INC. Meets 4th Saturday of the month at the Carrara Community Centre, Nielsens Road, Carrara. (Exit 73 off the Pacific Motorway.) Meeting commences at 1pm, with plant sales from 12 noon.
President: Shane Weston - Phone: 0408 247 208 Email: gcsbs.president@gmail.com
Website lists best contact details: www.gcsbs.org.au
NORTHERN TERRITORY BROMELIAD SOCIETY
Meets on the last Sunday of each month at homes of members.
President: Dominic Campisi Phone: (04) 0857 0055 Email: dom@elysiumlandscapeanddesign.biz
Secretary: Lyn Hutton Phone: (08) 8931 3743 Email: lynhutton24@bigpond.com
PORT MACQUARIE ORCHID AND BROMELIAD SOCIETY INC.
Meets on the Fourth Monday of the month at Port Macquarie Panthers at 7.00pm. No meeting in December. We will be holding two shows in 2013. Autumn Show – Mother's Day Weekend, 10th to 12th May and Winter Show 24th to 25th August at Port Macquarie Panthers.
Secretary: John Matthews. P.O. Box 2171, Port Macquarie 2444, (02) 6582-0186 Email: jrhmmatthews@bigpond.com
SUNSHINE COAST BROMELIAD SOCIETY INC. Meets on 3rd Saturday, commencing at 1.30 pm at Millwell Road Community Centre (eastern end of Millwell Road), MAROOCHYDORE (Near entrance to P4 parking area for Sunshine Plaza).
President: Cheryl Basic Phone: (07) 5472 8827 email: wildfire@westnet.com.au
Secretary: Carol Stewart Phone: (07) 5445 3488, email: phildod@dodo.com.au
---
PRODUCING BETTER PUPS
From an article by Robert Meyer (under the title "In Case You Missed It") which appeared in BromeliAdvisory, the newsletter of the Bromeliad Society of South Florida in March 2011.
Nat DeLeon came to speak about the three items of focus when attempting to better produce suckers or pups for plants.
The talk revolved around: (1) light; (2) potting medium and (3) fertilizer. Each, with intrinsic character or variable effect upon the other items of focus, can greatly aid or deter the production of a bromeliad's offspring.
The basic rule for light is that at the plants with enough light produce more pups than those with not enough light. And, sometimes, the suckers which abut the lower leaf sheaths of the parent are helped when you cut back the dead leaf matter of the parent which may curl down and ultimately shade the emergence of the pups. Good examples include Alcantarea imperialis and Aechmea 'Little Harv."
Potting medium has been the topic of other discussion and what makes the best is a great topic of debate. But, for purposes of improving the growth of pups, Nat asks for three things: (a) loose; (b) good drainage; and (c) full of nutrients. In order to facilitate drainage, Nat endorses the Landmark A-600 six inch pots as they have four side holes in addition to four bottom holes.
Interestingly Nat believes the soil he used years ago remains the best he ever used—a fern soil. Its ingredients were fibrous peat and perlite. Today, he states, the peat moss is often too powdery and lacks the fibrous character needed for drainage. And Nat adds that he stopped using perlite and opts for Styrofoam pellets instead.
Soil issues may also arrive from the plants you buy. At the larger nurseries they use potting machines which most likely implement peat moss without perlite or other drainage aids. If the soil dries, the medium becomes extremely difficult to soften, thereupon strangling the roots and diminishing the ability of the pups to reach adulthood. Places like Home Depot and Lowes stock up on such plants and Nat advises that the pups be removed from this soil into a new potted medium that you make or buy which has fibrous compound and perlite or Styrofoam.
Fertilizer's basic mantra is Nutricote. Unlike Osmocote, Nutricote will endure heat and water better, and therefore last longer and not release as readily. He asks for topical fertilizer as opposed to liquid fertilizer. But, at the nursery, they commence plants in pots with good drainage, and apply 20-10-20 for two weeks with liquid fertilizer, and follow with calcium/magnesium mix which is sprayed for two weeks. Upon the completion of this fertilizing ritual, the plants are left on their own.
Nat, the granddaddy of the BSSF, offered more tips to listeners. Best way to start a pup is to pot the plant—and he showed us a secret to holding the plant up (see photos). The plants with "arms or legs" he held down with one dowel. The plants with no "arms" or "legs" (maybe stoloniferous as opposed to non-stoloniferous) he held down with two dowels. The dowels could be bought, or ad-libbed with oak tree twigs which fall down from a storm.
Beyond the concern of light, soil and fertilizer is the concern of when to institute the regimen for the pups. Nat believes that the time arrives to remove the pup when it is 33% the size of the parent.
---
Click HERE to return to Illawarra Bromeliad Society "Club News Page".

---
Updated 16/02/13
---