ILLAWARRA BROMELIAD SOCIETY Inc.
Club News.
---
Click HERE to return to Illawarra Bromeliad Society "Club News Page".

---
NEWSLINK
January 2011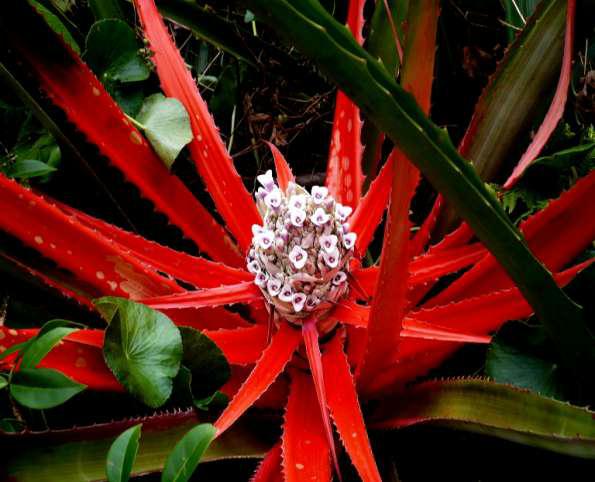 Bromelia serra
Photos by John Killingley
See article this Newsletter.


---
- Articles appearing in this issue of NEWSLINK are for information purposes only and are not necessarily endorsed by the Committee or the Illawarra Bromeliad Society.
- The Society is, by the holding of meetings, displays and competitions, to provide a forum for the people of the Illawarra region who are interested in the culture and collection of bromeliads.
- Under the provisions of the Privacy Act, use of names and references to private details, such as illness, holidays, birthdays and items of a similar nature, may only be published with the written permission of the person concerned.
---
NEWS IN BRIEF . . .
VALE: JEFF BARTLEY
It was with the greatest sadness that I learned of the death of Jeff, who died peacefully on the morning of January 5 after a battle with cancer. In spite of the several health problems that Jeff suffered over the past ten years or so, he retained his jovial nature and his passion for gardening, which was evident when we visited him and Margaret at their home in Mackay in July 2009. When Margaret and Jeff lived in Figtree I had thought their garden beautiful, but in Mackay they had created an even more stunning garden, mounting orchids along with their bromeliads and other interesting plants and beautiful pieces of wood, so that passers-by always stopped to take a second look.

Jeff was our first President, having responded to a newspaper ad to meet to discuss the formation of a bromeliad study group/society in the Illawarra and at the inaugural meeting held on March 7, 1992, Jeff was elected President of the newly formed Illawarra Bromeliad Society.

His wife, Margaret, was also involved from day one, standing in for the Secretary right from the second meeting. During the first year all kinds of details needed to be attended to and I can only imagine all of the work which both of them would have put in to make all of these things happen; plus, in the first year, taking part in Wollongong's first "Floral Festival", later to become "Florawarra'. Later there was liaison with the curator of the Wollongong Botanic Garden, helping to organise replacement of the roof of the greenhouse and donations of bromeliads for display in this structure, as well as to start a bromeliad section in the garden outside.

From March 1992 until late 2000, when they moved to Mackay, Margaret and Jeff were the backbone of our Society. Even in those early days when they were just getting started into bromeliads they always had beautiful plants to bring in to each meeting for members to see, enjoy and learn from. Their home was always open—for committee meetings, for workshops for new members, and for photo shoots, using their beautiful garden as a backdrop for advertising our Society and its annual Show in the local newspapers.

Margaret, our thoughts and prayers are with you and your family at this sad time. Jeff's passing is a great loss.

---
NEW MEMBER:
A very warm welcome to Peter Tristram who joined our Society in November.
Peter is an avid collector and has travelled many times to Central and South America, bringing back new and exciting bromeliads. He operates Forest Drive Nursery from his home at Repton, just south of Coffs Harbour and you are welcome to visit if you are in the area - but please call first. Peter also sells mail-order and more details can be found on the back page of this issue of Newslink.
---
POINTS SCORE WINNERS FOR 2010:
Very hearty congratulations to our Points Score winners for 2010. At the end of the year just two points separated Rena and Sandra's scores in the Tillandsia section and so it was decided to award trophies to each of them to thank them for their participation throughout the year. And thanks indeed to all of those members who participate in our monthly competitions by bringing in their beautiful plants for us to learn from and enjoy.
- Open: - John Carthew
- Novice: - Warwick Varley
- Tillandsia: - Catherine Wainwright and Sandra Southwell

---
NEVILLE'S SEEDLINGS:
Neville would like to ask members to bring in the plants which he distributed as seedlings during 2010 to our March meeting for show and to see how they are doing. A prize will be awarded for the best-looking one!
---
MONTHLY RAFFLE PRIZE ROSTER:
We will again be using the roster system for providing prizes for our monthly raffles. Bromeliads are preferred, but if you are unable to spare one then items such as potted herbs, cuttings, garden tools, etc. are acceptable. Also, if you are unable to attend the meeting—and/or are unable to supply a raffle prize when rostered—it would be appreciated if you would either 'work a swap' or speak to Elizabeth about getting a fill-in for your month. As our membership fees are kept very low, we rely on these raffles to help defray the costs involved in the running of our Society, and so your support is very necessary and very much appreciated.

| | |
| --- | --- |
| February | Graham Bevan, Ted Clare, Joan Banks. |
| March | Eileen Killingley, Tamara Caruana, Elizabeth Pavatich, Jarka Rehak, Freda Kennedy |
| April | Carol Tieck, Barbara Jones-Beverstock, Gary Claydon, Christa Thomas, Colette Jackson |
| May | Sandra Southwell, Christine Okoniowski, June Smith, Neville Wood |
| June | Alexi Aleuras, Rhonda Patterson, Fred Burrows, Maria Jakobsen |
| July | Jenny McKenzie, Phillip Robinson, Steven Dolbel, Jan Stammers |
| August | Gino Di Cesare, Jenny Godin, John Carthew, Val Dixon |
| September | Doreen Netting, Steve Morgan, Maadi McKenna, Vicki Joannou |
| October | Glenise Weston, Warwick Varley, Ann Kennon, Eunice Spark |
| November | Loreen Whiddett, Yvonne Perinotti, Meri Stefanidakis, Sharyn Baraldi |
---
COMING EVENTS:

| | |
| --- | --- |
| Apr. 7-10 | 16th AUSTRALASIAN BROMELIAD CONFERENCE - BROMS ON ARAFURA - For more details see below. |
| Apr. 14-27 | ROYAL EASTER SHOW - HOMEBUSH |
| Apr. 16-17 | 7TH COLLECTORS' PLANT FAIR – "Woodgreen", 25 Powells Road, BILPIN |
| May 14-15 | BROMELIAD SOCIETY OF NEW SOUTH WALES AUTUMN SHOW - Senior Citizens Centre, 9-11 Wellbank Street, CONCORD |
| May 28-29 | BROMELIAD SOCIETY OF AUSTRALIA AUTUMN SHOW – BURWOOD RSL |
| Sept. 8-11 | CENTRAL COAST BROMELIAD SOCIETY SHOW - KARIONG |
| Sept 10–11 | ILLAWARRA BROMELIAD SOCIETY SHOW – Uniting Church Hall, Russell Street, CORRIMAL |
| Sept 10–11 | BROMELIAD SOCIETY OF AUSTRALIA SPRING SHOW - BURWOOD RSL |
| Oct 29–30 | BROMELIAD SOCIETY OF NEW SOUTH WALES SPRING SHOW - CONCORD |
PLANT RESULTS - October 2, 2010
OPEN

| | | |
| --- | --- | --- |
| 1st | Nina Rehak | Aechmea nidularioides |
| 2nd | Catherine Wainwright | xQuesnelia arvensis |
| 3rd | John Carthew | xNeoregelia Spotted Dick |
| 3rd | John Carthew | xNeoregelia Bobby Dazzler |
NOVICE
| | | |
| --- | --- | --- |
| 1st | Barbara Jones- Beverstock | Neoregelia |
TILLANDSIA
| | | |
| --- | --- | --- |
| 1st | Graham Bevan | recurvifolia var. subsecundifolia |
| 2nd | Graham Bevan | bulbosa |
| 3rd | Catherine Wainwright | recurvifolia var. subsecundifolia |
---
PLANT RESULTS - November 6, 2010
OPEN

| | | |
| --- | --- | --- |
| 1st | Catherine Wainwright | xNeophytum 'Galactic Warrior' |
| 2nd | John Carthew | Alcantarea extensa |
| 3rd | Steve Morgan | Vriesea 'Red Chestnut' |
NOVICE
| | | |
| --- | --- | --- |
| 1st | Carissa Morgan | Neoregelia Lambert's Pride |
| 2nd | Carissa Morgan | Neoregelia Verna |
| 3rd | Sandra Southwell | Vriesea rubyae |
TILLANDSIA
| | | |
| --- | --- | --- |
| 1st | Laurie Dorfer | deppeana |
| 2nd | Jørgen Jakobsen | ionantha |
| 2nd | Steve Morgan | butzii |
| 2nd | Steve Morgan | seleriana a very impressive clump in a hanging pot |
| 2nd | Sandra Southwell | lorentziana & nana mounted on wood |
| 3rd | Sandra Southwell | leiboldiana recurving form with purple tinged leaves |
| 3rd | Ann Kennon | aeranthos with 3 inflorescences |
---
SOME NOTES ON PLANTS BROUGHT TO OUR OCTOBER/NOVEMBER 2010 MEETINGS
Tillandsia deppeana: Laurie and Rena brought their beautiful plants to our November meeting. T. deppeana is one of the green, soft-leafed, tank-forming tillandsias which grows as an epiphyte in the cooler, misty, pine and deciduous forest areas of Mexico, Central America, Colombia, Ecuador and the West Indies, at elevations of from 400-2000 metres.
While it has a beautifully exotic look when in bloom, it seems to do well In Sydney and surrounds where it grows as a medium sized tank-forming plant of apple-green leaves around 20-30 cm across, and about 60-75 cm tall, although the height can exceed 1 m when in spike. The inflorescence is multi-branched [with at least 10-12 paddles], and the flower bracts a pale rose-pink, with delicate violet flowers. However, apparently, with its widespread distribution in its native habitats, there can be variation in the size and form. For example, one source tells us that the flower spike turns red, while another, (Oliva-Esteve, F. 2000, In: "Bromeliads, Armitano Editores", C.A.,Venezuela), describes it has having salmon-pink bracts.
As Laurie pointed out, this species is dimorphic, meaning that it has two quite distinct growth forms. When young, it looks like a typical silver-leaved tillandsia, having narrow leaves which do not overlap to form a water-holding tank, but use their heavy covering of trichomes to absorb water and nutrients. As they mature, the plant changes to a tank-type form with wide, green overlapping leaves. T. multicaulis, from the same eco-region, behaves in a similar manner.
T. deppeana likes shady, humid conditions, and coming from higher altitudes will tolerate cooler conditions. In fact, on one site on the Web I read where it had tolerated freezing conditions-- down to -8C over two consecutive nights--without damage. In Andrew Steens' book, ("Bromeliads, the Connoisseur's Guide", 2007, Florilegium, Glebe, NSW), when talking about the tropics, it states: "During the wet season, cloud forest species such as Tillandsia guatemalensis, T. multicaulis, T. deppeana and T. imperialis, or xerophytic species such as T. xerographica, will struggle to grow in the constantly high humidity and high temperatures of the tropical zone. If the plants don't die outright, they will tend to stay small, fail to flower and fail to produce pups."
Vriesea rubyae. Sandra's pretty plant is a species endemic to Brazil, where it was discovered growing in the state of Rio de Janeiro in 1967. It is a small plant, forming an erect rosette approximately 15 cm high and wide. The grey-green leaves have purple bases and tips. It has a semi-pendent, sword-shaped, 10 cm long, orange-red, inflorescence, somewhat resembling a goldfish. It clumps quite quickly, the pups forming on the end of thick, 10 cm long stolons, useful for growing on logs and stumps, or in hanging baskets, in well shaded situations.

---
SELLING BROMELIAD PLANTS
By Noel Kennon
The Society wants to encourage members to improve the attractive appearance of plants they offer for sale and also offer for raffle prizes. We want persons who buy plants from Society members at our Show to be so pleased with them that they will want to come back to buy more. And we want Society members who buy or win plants at our monthly meetings to be well pleased with them.
Our guiding criterion is: "IF YOU WOULDN'T BUY IT – DON'T TRY TO SELL IT!"
Many plants offered for sale through the Society look great but some are disappointing. Some are quite unattractive. Some are dirty. Some contain water which leaks. Some are top heavy. A few have no name label. A few have no price label. A few name and price labels are difficult to read. A few plants are loose in the pot. A few sport very dead flowers. A few have resident animals. Some pots are cracked, broken, or dirty, and so on. With a little care and attention to detail these deficiencies can be corrected, with significant improvement in the appearance of the plant. Not all plants are great but all plants can be made to look attractive.
There are five matters to be addressed: the plant, the potting mix, the pot, the name label and the price stick and here are some guidelines, approved by your Committee, on these matters. These guidelines apply particularly to potted bromeliads, but they are also relevant to mounted and unmounted tillandsias, bare-rooted bromeliads and mounted multiples.
The Plant -
- Thoroughly drain water from the well and leaf axils
- Clean debris and dirt from the well and leaf axils
- Clean the leaves – use only water for washing
- Do not attempt to artificially gloss the leaves – not with oil or milk or any other product (this is a 'no-no' for competition and also the Club sales and raffles)
- Remove or trim damaged leaves
- Remove dead flowers
- Ensure that the plant is completely free from pests of any kind.
The Potting Mix -
- Thoroughly drain the potting mix so that no water seepage can occur
- Ensure that the mix is at an appropriate level, looks fresh, and is free from weeds, etc.
The Pot -
- Make sure that the pot is undamaged – repot if necessary
- Black and dark green pots are the most attractive, least intrusive, and best complement most plants
- Wash the pot and thoroughly clean the base of any salt deposits, etc.
- Make sure that the plant is stable in the pot and not top heavy. The size of the pot should be appropriate to the size of the plant. Repot if necessary.
The Name Label -
- Print the correct plant name clearly and neatly on a plastic or metal label and then either insert it into the potting mix or otherwise attach it to the plant
- Learn the correct way of printing the plant name
- If the plant name is not known, put a blank label into the pot to signify that the name is not known and to enable the name to be added should somebody provide the identification.
The Price Stick -
- Paddle pop sticks are cheap. It is suggested you use a new one for each plant. However, if you have it painted for easy identification when large numbers of plants are being sold, say at Shows, etc, and it is intended for re-use, please ensure that it is clean and easy to read—with no cross outs, etc.
- Print the price and your initials clearly and neatly on the same side and at the same end of the stick.
- Please register your initials with the Plant Sales Officer
- Use indelible ink or a waterproof pen for printing
- Insert the stick into the potting medium next to the name label with the price on the outside—or otherwise attach it firmly with a rubber band.
These guidelines are offered to help sellers improve the attractive appearance of their plants, to help them increase their sales, and to ensure buyer satisfaction. But please always remember: "IF YOU WOULDN'T BUY IT – DON'T TRY TO SELL IT!"
In addition to approving these guidelines, the Committee has also decided that any plant not generally conforming with the guidelines may be withheld from sale.

---
PLANT NAMES, AND HOW THEY GOT THAT WAY
(Reprinted from Hunter District Newsletter, June 2001, in turn acknowledgement given to Bromelia Post, January 2001 and BSSF Home Page 12/1999)
The current binomial system of botanical names was developed by the Swedish botanist, Carl van Linne, better known as Carolus Linnaeus, in the 18th century. In this system each plant is given two names: GENUS (comparable to an individual's family name), and SPECIES (like the given name), often an adjective describing the plant. Plant names are written in Latin (well, sort of!).
Plant Latin is a rather curious mixture of classical Latin and Greek, words from several other languages, and names of men, women, or locations, usually given more-or-less Latinized endings. For example, among bromeliads more than half the genera are names for people or places; two (Nanas and Puya) are derived from native names of the plants, and the rest are Latin or Greek descriptive terms.
Plant names are written genus first, followed by species—then sometimes by variety, subspecies, or forma. Sort of like, "Last name, first name, middle name last" on government paperwork. "Variety" (var.) is seen frequently, "subspecies" (ssp.) and "forma" (f.), seldom. (Read Harry Luther's article on species variation for an explanation of the subtle differences between these.)
That's simple enough, but we're not done yet! There are rules concerning capitalization, use of italics, and names of hybrids—not to mention bigenerics and cultivars. By the time you finish this, you should have a basic knowledge of botanical nomenclature (or maybe just a headache!).
Basic Rules
- Genus: First letter capitalized. May be abbreviated.
- Species: All lower case.
- Variety: All lower case, preceded by "v" or "var."
- Subspecies: All lower case, preceded by "ssp."
- Forma: All lower case, preceded by "forma"
- Natural Hybrids: (Yes, there are a few of these) Given Latinized names, with the specific name [specific epithet] (all lower case) preceded by an "x".
- Bigenerics: (Two cross-pollinated bromeliads of two different genera are given their own name made up from letters of the two parents' genera, preceded by an 'X'—e.g., a cross between a neoregelia and an orthophytum would be X Neophytum)
Some examples:
- Species = Aechmea fasciata, or A. fasciata
- Variety = Nidularium innocentii var. lineatum
- Subspecies = Tillandsia schiediana ssp. glabrior
- Forma = Tillandsia fuchsii forma gracilis
- Natural Hybrid = Tillandsia x smalliana
- Bigeneric = X Neophytum 'Galactic Warrior'
Some horticulturally interesting (but botanically insignificant) variations of species may be selected and given cultivar names. For example:
Aechmea lueddemanniana 'MEND', or Aechmea 'MEND'
[or Aechmea lueddemanniana cv. MEND – Ed.]
[Perhaps this was not the best example to have been given because in this case the cultivar name, 'MEND' is written all in capitals, the name derived from: (M) Mildred Merkel, (E) Edward Ensign who sowed the seed, (N) Julian Nally who gave the seed to Ensign, and (D) in memory of Ralph Davis, whereas the more usual form of writing a cultivar name would be:
Aechmea gamosepala 'Lucky Stripes', or Aechmea 'Lucky Stripes'
(a sport of A. gamosepala with stable cream coloured margination.)]—Ed.
The second, shorter form, is preferred by 'Uncle Derek' (Australian expert Derek Butcher). See his article in The Journal of The Bromeliad Society, Volume 49 No. 6.
In addition, undescribed species may be given names using the same form as cultivars—e.g.,
Neoregelia 'Fireball'
The Latinized genus, species and subspecific names should be italicized or underlined in text. Cultivar names and the tags for variety, subspecies, or forma should not be. Cultivar names are enclosed in single quotes, and the first letter of each word should be capitalized.
If you have a serious interest in the rules of botanical nomenclature check out the electronic copy of the ICBN Tokyo code.
---
WHAT IS THE BEST WAY TO NAME CULTIVARS?
By Chris Larson
(Reprinted J. Bromeliad Society of New Zealand, November 2007, Vol. 47(11)[with comments from Gerry Stansfield], in turn reprinted from September 2007 issue of the Western Australian Bromeliad Society's BROMELIAD NEWSLINK, with comments from Herb Plever, editor of New York Bromeliad Society's BROMELIANA.)
I've had a couple of people come up to me recently with a lack of understanding of the nature of plant names, specifically with cultivars masking the identity of species. This has become more important over the last few years, as there have been a number of members starting to collect species plants, rather than hybrids. Sometimes the rules by which our plants are named, under the International Code of Nomenclature for Cultivated Planets (ICNCP), create some confusion. The term cultivar in the BSI (Bromeliad Society International) publication "A Bromeliad Glossary" is: 'A plant produced as opposed to one growing in habitat; a horticultural clone or strain. A plant type within a cultivated species that has recognizably different characteristics.' Most of us understand cultivar to mean the plant produced in cultivation such as hybrid or sports. Many don't consider the second part of the definition where it can mean a particular form of a species, which doesn't have the necessary criteria to gain the status of a variety, or even assume the title of a forma.
The ICNCP rules state that all genera, species, varieties and forma names are Latinized, and all cultivar names are not to be Latinized (although it was usual to Latinize cultivar names until early last century). The rules also state that when the cultivar name is used, the species name should not be included.
So the upshot of all this is that where we have a naturally occurring species, like Tillandsia 'Druid', many may mistake it for a hybrid. T. 'Druid' is a form of T. ionantha occurring naturally in Vera Cruz, Mexico, and is distinct in that the plant has white flowers and blushes yellow instead of red. Taxonomists don't consider it different enough to give it varietals status, like T. ionantha var. maxima, so botanically the plant rates as T. ionantha. However, as collectors, sometimes we find the need to differentiate between different clones of a species, and as a result someone registered the name 'Druid' for this plant. Under the ICNCP rules, which the BSI (Bromeliad Society International) follows, the plant becomes T. 'Druid'. Orchid societies do not follow the ICNCP rules and, if it were an orchid, it would be T. ionantha 'Druid'. When I write tags I often use the ICNCP rules, but at other times I write a tag 'the orchid way'—especially if I'm giving the plant to someone else, as I feel it conveys the identity of the plant more fully. However, when you are reading bromeliad literature, or buying plants, be aware that sometimes the name may not present all the information you are looking for.
Herb Plever, editor of the New York Bromeliad Society 'Bromeliana' comments:
There is much to be said for labeling 'the orchid way' for naturally occurring forms of a species like Tillandsia 'Druid'. Using T. ionantha 'Druid' gives better information about the identification of the plant, especially for newer growers (still using the single quote marks to indicate it is a registered cultivar). The 'Druid' form of T. ionantha is so consistently distinct from the species (white flowers instead of dark blue and yellow or orange colouring at flowering instead of red), one wonders at the reluctance of taxonomists to at least title it as forma druid. They have done so for the variegated form of Neoregelia carolinae forma tricolor. When I label or refer in writing to a variegated or albo-marginated form of Guzmania lingulata var. minor or of Aechmea fasciata, I always write 'variegated' or 'albo-marginated' on the label or in the article.
Our Registrar, Gerry Stansfield, comments:
I have long since held the same view as both Chris Larson and Herb Plever that the 'orchid way' of naming plants is the best. How the so-called bromeliad experts of the world were allowed to move away from this system—which, incidentally, dates back to the 18th century with Sanders and Co., London and Sam Mosher of the Dos Pueblos Company in Santa Barbara, California, USA in the 1920s—is beyond me. Tillandsia 'Druid' is typical of what, in my opinion, is very bad nomenclature in Bromeliaceae. If you asked someone what they thought the plant was I am sure they would say it looks like a yellow form of Tillandsia ionantha, and that's exactly what it is. So why don't we call it just that, Tillandsia ionantha 'Druid'?
For another example, take Aechmea 'Ensign'. Unless we know the plant's background, we have no idea where it came from; however, if we were to say Aechmea orlandiana cv. Ensign or var. ensign then we would know exactly where the plant came from. We may not know if it was a seedling or a sport mutation, but we would know that it came from orlandiana.
---
BROMELIA BALANSAE/BROMELIA SERRA
(Serra = 'saw', for saw-edged leaves), By Eileen Killingley.
Since being introduced to bromeliads I have become ever more fascinated with the larger species and, after seeing the very large cluster of bright yellow berries from a Bromelia balansae (used in a display at an Illawarra Show), I decided that I would love to have one of these fascinating plants (see cover photo).
The opportunity arose when I heard of an estate sale where all of the plants (big or small) in a collection were being offered at $2 each. As the gentleman whose plants were being sold had been of a like mind to myself, there were lots of beautiful big plants, including some of the larger porteas, quesnelias, and aechmeas. At one point I spied a large pot of the bromelia I had been seeking, but as luck would have it, someone else saw it at about the same time and so I thought that I had missed out on being able to acquire one. However, just as I was about to leave the garden with a van load of 'treasures', I spied, tucked in amongst some shrubs near the front gate, a terracotta pot holding another of the plants I had hoped to find.
Bromelia balansae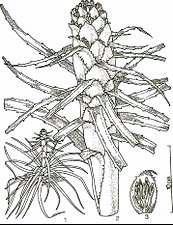 Bromelia balansae
Discovered in Mexico in 1891 and named after the collector, Benedict (Benjamin) Balansa, a French botanist and explorer.
Also native to Paraguay and Argentina.
With the Bromelia balansae inflorescence, both the upper scape bracts and basal primary bracts are bright red.

Bromelia serra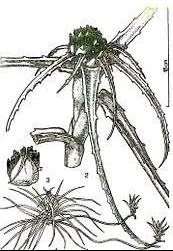 Bromelia serra
(serra = saw, because of the saw-edged leaves)
Discovered in 1879 by August Grisebach, a German botanist and phytogeographer (one who studies the geographical relationships of plants).
Native to Argentina, Bolivia, Paraguay and Brazil.
Note the pups on long stolons in the lower part of the illustration.

Arriving home, I found that as I had picked up a large number of some quite large, spiny, plants I needed to form a new area of garden to take them. Fortunately, a large load of mulch had been delivered to us just a few days before, and so we took over an area of lawn to accommodate these new plants.

When I wrestled the B. balansae (B. serra) out of its container I found that it had two pups, on stolons each about two feet long, which had been wrapped around and around well down inside the pot. Unfortunately, as I tried to disentangle them, they became slightly damaged, but overall the plant looked happy to be freed from its confinement and planted out into its new home. As the weeks went by, the two existing pups didn't seem to be doing much, but then I noticed one, then two, and eventually seven new pups appearing, each about a foot or two from the mother plant. After a while the original pups started to show growth and, so, after a relatively short time, I had nine very healthy looking pups growing to a large size, and soon they were at least a metre high, with a spread of around twelve feet diameter. There are scary stories of pups from these species popping up about 20 feet from the mother plant, and I have to admit that sometimes I wonder if, after another flowering, I might have to worry about a nine times nine expansion of my group of plants!

As some of my 'treasures' from the sale included a couple of pots of Aechmea ornata and two kinds of A. distichantha, both with extremely sharp spines at their tips, this new area was named "the lacerator garden" by my husband, John! But much was forgiven when two of the plants came into bloom, starting with the inner leaves gradually turning to a brilliant scarlet, and then the inflorescence—a felted, white, club-shaped affair, with flower petals white with a lilac base.

I have more recently come to learn that the plant that I have is probably not Bromelia balansae, but is more likely to be B. serra. These species are very similar in appearance and apparently the genus in general has been a bit confusing to both botanist and layman. However, Bromelia balansae has an upright inflorescence that sometimes reaches four feet, with the flowers borne in a rather tight-fitting panicle which branches out as the fruit ripens. On the other hand, B. serra bears a smaller and more compact semi-globular flower head and the inflorescence seldom reaches more than twelve to eighteen inches in height. While both species are very showy when they are coming into flower, B. balansae puts on a more spectacular show with its crimson red flower bracts which surround the inflorescence.

In their native areas—Paraguay and Argentina for B. balansae and Paraguay, Argentina, Bolivia and Brazil for B. serra, bromelias, with their three to four foot long leaves with hooked barbs, are grown as living fences to keep out unwanted animals (and people!).

The genus has been recognized since 1753 and all of the known species (about 50) are conspicuous plants. Their long, underground stolons form great impenetrable areas in their native habitat, which ranges from Mexico and the West Indies to Paraguay and Argentina. Here they are xerophytic, living in company with cactus, and growing in low rainfall areas of thorn forest where they make up a substantial part of the undergrowth.(*Rauh, W. (1973] In: Bromeliads For Home, Garden and Greenhouse, Editor Peter Temple, Blandford Press, Poole, Dorset.) However, as Racine Foster (wife of Mulford Foster and after whom a genus, Racinae, was named, as well as species such as Aechmea racinae and Vriesea racinae) wrote of Bromelia balansae in an article which appeared in The Journal of the Bromeliad Society in 1990 (Vol. 40 No. 6):

"…To work with it you must wear heavy, long gloves and stout boots. For tools you need an axe, mainly, as well as long-handled loppers. Equipped in this manner you may feel very belligerent yourself as you try to stop its rampant growth!

And then, when you see a plant in bloom, all anger dissipates. You are spellbound with wonder at the amazing spectacle. The "heart of flame" is quietly, but sturdily thrusting upward a tower of "cotton" filled with maroon flowers which are protected by its bracts that look like red darts in the middle of a leaf fountain splashed with scarlet. A dazzling display! A sensational bromeliad!"

---
NIDULARIUM AND CANISTROPSIS
By Jan Townsend
(Reprinted from The Hunter District Bromeliad Society's February 2009 newsletter)
The genus Nidularium (sub-family Bromelioideae) contains 45 species (Leme 2000) and there are 35 cultivars currently listed (fcbs.org). Whilst most collections will usually contain a few nidulariums they tend to be those that are often seen for sale on Society trading tables.
Do you have your nidulariums tucked away under the bench or in the back corner of your collection? This is where most nidulariums seem to reside! Well, bring them out and give them a good tidy up and replace them in an open, well-lit position. This doesn't mean 'sunny spot'! You will be surprised at their beauty, shape and form—not to mention the stunning leaf patterns—when grown in an open position.
Nidulariums are endemic to eastern Brazil and, according to Padilla (1973), are usually found growing at low elevations, on the forest floor or attached to the lower branches of trees in dark, often humid, conditions. Perhaps this why most of us push our nidulariums towards the back of our collections to make room for the many other broms we can't help collecting.
The name 'Nidularium' is from the Latin term 'nidus' which refers to the 'nest-like' formation of the leaves around the flowers (Padilla (1973). Generally, nidulariums are medium-sized plants which form a nice rosette shape, and produce an inflorescence which is low set in the centre of the plant (except 'procerum types'), similar to the genus Neoregelia. The tank holds enough water to provide the plant's moisture requirements. The inflorescence comes in a variety of bright colours, such as cerise, brown, rosy pink, red and maroon. The flowers will usually stand upright slightly above the inflorescence and the petals can be red, white or blue. The 'soft' foliage has inconspicuous spines and is mostly apple green in colour, although it can be mottled, striped, spotted or plain.
Nidulariums thrive in warm, moist environments, where their light requirements are from shade to semi-shade. Suitable pot size ranges from 125 mm to 200 mm. Even for some of the larger cultivars—such as N. 'Miranda'—a 200 mm pot will allow them to happily grow and to flower. Add slow release fertilizer, such as Nutricote or Osmocote, just under the surface of an open, 'orchid-type' mix. Liquid fertilizer can also be used, especially during the warmer months. But remember 'too much fertilizer can blow out variegation and produce leggy leaf growth' so use sparingly. Position nidulariums in a bright pot where they can be seen and will receive enough light that will encourage a nicely-shaped and compact plant. When flowering, the beauty and colour of their long-lasting inflorescence will surprise and delight.
Note: Nidulariums should be protected from frost.
Listed below are just a few nidulariums, descriptions of which can be found in many of our library books:
SPECIES
- Nidularium amazonicum
- Nidularium angustifolium
- Nidularium antoineanum
- Nidularium campos-portoi
- Nidularium ferdinando-coburgii
- Nidularium fulgens
- Nidularium innocentii
- Nidularium innocentii var. lineatum
- Nidularium innocentii var. striatum
- Nidularium longiflorum
- Nidularium procerum
- Nidularium rosulatum
- Nidularium rutilans
- Nidularium scheremetiewii
CULTIVARS AND PARENTAGE
- Nidularium Chantrieri = N. innocentii x N. fulgens
- Nidularium 'Don Roberts' = Sport of N. innocentii var. lineatum
- Nidularium Flamingo = N. rutilans x innocentii var. lineatum
- Nidularium Krakatoa = N. innocentii x innocentii var. purpurea
- Nidularium Leprosa = N. regelioides (now rutilans) x rosulatum
- Nidularium Litmus = Cultivar of unknown parentage
- Nidularium 'Madonna' = Cultivar of unknown parentage
- Nidularium 'Miranda' = Cultivar of unknown parentage
- Nidularium 'Nana' = Cultivar of N. innocentii var. innocentii
- Nidularium 'Orange Bract' = Cultivar of N. fulgens
- Nidularium 'RaRu' = Unknown parentage
- Nidularium Red Queen = N. regelioides (now rutilans) x innocentii
- Nidularium Ruby Lee = N. innocentii var. lineatum x innocentii var. variegata(?)
- Nidularium 'Ruby Lee Too' = Cultivar of unknown parentage
The closely related genus 'Canistropsis' has recently been reclassified (Leme 2000), many species of which were previously known as nidulariums (currently only 7 species listed on fcbs.org). Cultural requirements (water, light and fertilizers) are very similar to nidulariums. Canistropsis tend to have thin and more strappy-type leaves, edged with very soft spines.
The inflorescence rises above the centre of the plant and the bract can be a variety of colours (yellow, orange, red, maroon), whilst the flower petals are predominantly white.
Canistropsis billbergioides is commonly seen in most collections, and inflorescences come in a variety of 'fruit' colours (Orange, Citron, Guava, Lemon, Mandarin, Persimmon, Plum and Tangerine). Smallish plant size, grows well in hanging situations and responds well to bright light situations. The variegated form differs only by its green leaves having cream albo-margination and its bract is orange in colour. C. billbergioides forma azureum is a little more rare and has a more open-shaped red bract which holds 'azure blue petals'—very attractive!
Canistropsis burchellii – brownish/red lanky leaves form an open rosette, whilst the ball-shaped inflorescence rises slightly above the centre of the plant, from which numerous white, 'star-shaped' flowers appear.
Canistropsis seidelii is a stunning bromeliad when in flower. The apple-green leaves can be 50 cm long and finely serrated, forming a large dense rosette. The inflorescence is quite exotic-looking and rises about 40 cm above the plant. Its alternate yellow, 'boat-shaped' bracts stand out, are very long-lasting, and hold white-petaled flowers. There are a couple of other colours available, such as 'Goldie', and the variety called welteri, with brown bracts—although this may later be changed to a cultivar (read 'Uncle Derek Says'—fcbs.org).
Nidulariums have not been hybridized anywhere near as much as other genera, with only 35 nidularium cultivars currently listed. A small number of species are listed in this article and if you search out members who have been in the Society for a number of years I am sure you may be able to pick up some of the rarer nidularium and canistropsis listed on the fcbs.org site. They are generally easy to grow and flower—but don't hide them away, as given a bright spot you will be surprised and delighted with their variety of colour, shape and form.
References:
Leme, E. (2000) Nidularium-Bromeliads of the Atlantic Forest, CMT Editors, Rio de Janeiro, Brazil.
Padilla, V. (1973) Bromeliads, Crown Publishers, Inc., New York.
Fcbs.org – Bromeliad Photo Index

---
FOREST DRIVE NURSERY
Located at REPTON, south of COFFS HARBOUR

SPECIES AND VARIEGATES
All quality plants at reasonable prices
Plants for all levels of collectors

Beautiful TILLANDSIAS, VRIESEAS, NEOREGELIAS, AECHMEAS, ETC.

Visitors welcome but phone first:
(02) 6655 4130 A.H.
For mail order send S.A.E.
P.O. Box 2, BONVILLE, NSW 2441
Proprietor: Peter Tristram
PINEGROVE BROMELIAD NURSERY
Ross Little and Helen Clewett
114 Pine Street, WARDELL
P.O. Box 385, WARDELL, 2477
Phone/Fax: (02) 6683 4188
pinegrovebromeliads@bigpond.com

AECHMEAS, ALCANTAREAS, GUZMANIAS, VRIESEAS, TILLANDSIAS, NEOREGELIAS AND MORE

Open 7 days - Visitors welcome but please phone first.
CRADLE NURSERY – COBARGO, NSW
The Cheapest Bromeliads on the Internet!
Cradle Nursery is a small wholesale nursery on the NSW far south coast, currently selling via their website and on eBay, as well as at the local markets in the area:
- Moruya Market - Every Saturday
- Candelo Market - 1st Sunday
- Pambula Market - 2nd Sunday
- Batemans Bay Market - 3rd Sunday
- Bermagui Market - Last Sunday
Tim and Ernie Berger - Phone: 04 4758 7618
Email: sales@cradlenursery.com.au
Website: www.cradlenursery.com.au

JUDGING SCHOOL
The new Judging School will commence in February 2011.
If you are interested in joining this group please contact Eileen
Phone: (02) 9544 4726/Email: stagra7@ozemail.com.au
BROMS ON ARAFURA
Darwin NT - 7th – 10th April 2011
Registration: $280 1/11/10 to 6/4/11. Thereafter $300
Venue: Holiday Inn 'Esplanade' – 116 The Esplanade, Darwin, NT
There will be garden tours and plant competition
Contacts: Registrar: Ross broms16@bigpond.com
Information: Harry acacia@octo4.net.au

---
Click HERE to return to Illawarra Bromeliad Society "Club News Page".

---
Updated 22/02/11
---