ILLAWARRA BROMELIAD SOCIETY Inc.
Club News.
---
Click HERE to return to Illawarra Bromeliad Society "Club News Page".

---
NEWSLINK
January 2010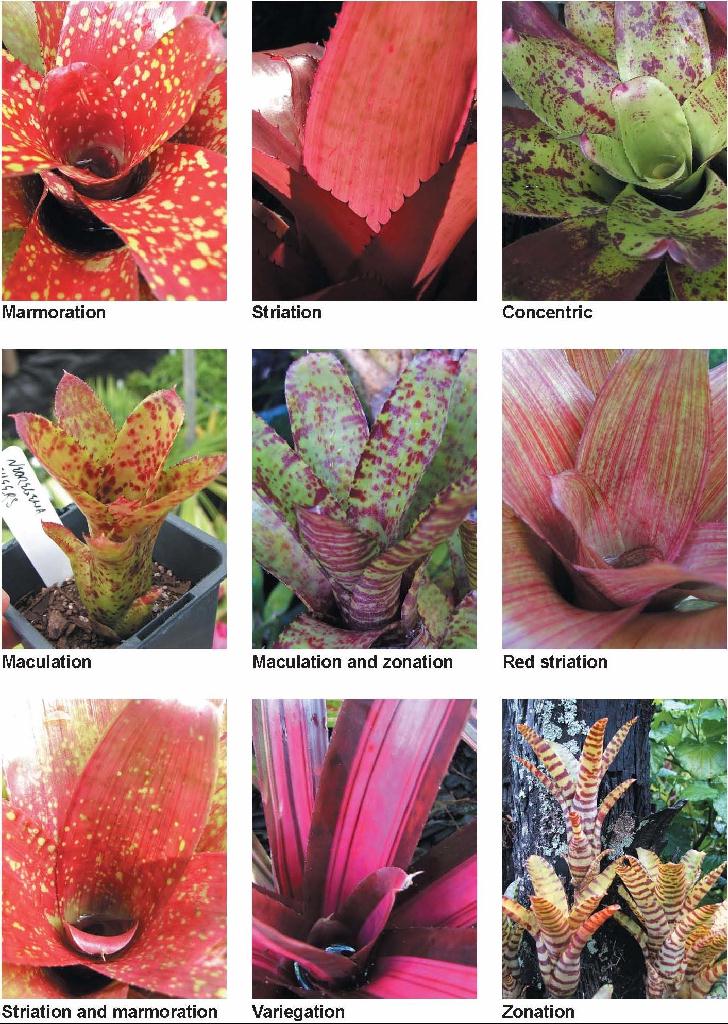 Photograph and article (pp.6-7 of this Newslink) appeared in the June 2009 issue of Bromeliad (Vol.49(6), the Journal of the Bromeliad Society of New Zealand).

---
- Articles appearing in this issue of NEWSLINK are for information purposes only and are not necessarily endorsed by the Committee or the Illawarra Bromeliad Society.
- The Society is, by the holding of meetings, displays and competitions, to provide a forum for the people of the Illawarra region who are interested in the culture and collection of bromeliads.
- Under the provisions of the Privacy Act, use of names and references to private details, such as illness, holidays, birthdays and items of a similar nature, may only be published with the written permission of the person concerned.
---
NEWS IN BRIEF . . .

NEW MEMBERS:


We extend a very warm welcome to Wendy Brown of Gatton, Queensland who joined in September and Elizabeth Pavatich who joined at our October meeting. We wish you both a long and happy association with our Society.
---
POINTS SCORE WINNERS FOR 2009:
Very hearty congratulations to our Points Score winners for 2009. Apparently it was neck-and-neck between Neville and John right up until the November meeting as to who would win the Open Section, with Neville just taking out the honours. But I would like to say thank you to all of those members who make the effort to bring their plants along to our meetings as I'm sure I'm not only speaking for myself when I say that they 'do the heart good!' and we can all learn so much when they are presented and discussed.
| | |
| --- | --- |
| OPEN - | Neville Wood. |
| NOVICE - | Jørgen Jacobsen. |
| TILLANDSIA - | Catherine Wainwright. |
---
MONTHLY RAFFLE PRIZE ROSTER:

| | |
| --- | --- |
| February | Coral Baldwin, Carol Carthew, Suzanne Burrows, Sandra Southwell. |
| March | Rhonda Patterson, Colette Jackson, Paul Godin, Jan Stammers. |
| April | Jenny Taylor, Neil Wheway, Eunice Spark, Phillip Robinson. |
| May | Carole Taylor, Yvonne Perinotti, Loreen Whiddett, Meri Stefanidakis. |
| June | Dot Stephenson, Jørgen Jakobsen, Jenny McKenzie, Sharyn Baraldi. |
| July | Neville Wood, Colleen Claydon, June Smith, Russell Dixon. |
| August | Catherine Wainwright, Elizabeth Pavatich, Steve Morgan, Jarka Rehak. |
| September | Eileen Killingley, Doreen Netting, Glenise Weston, Laurie Dorfer. |
| October | Brian Baldwin, Stephen Wain, Christine Okoniowski. |
| November | David Buxton, Ann Kennon, Janine Varley, Maadi McKenna. |
---
LIBRARY:
On January 18 several members of the committee met to sort through the many books, newsletters, journals and videos which we have accumulated over the years. Some books were in need of repair, and some of our beautiful new acquisitions have been added to the Library list, a copy of which is printed on pages 12 and 13 of this issue of Newslink.
Out of this meeting (and because of the limited storage space at our meeting venue) came the following rules and information:
1. Books shall be out on loan for one month.
2. All books on loan are to be returned to the Librarian at or before our November meeting.
3. There will be two libraries:
3a. An operating one at each meeting
3b. A storage library of books that have not been loaned out during the past four years, and thus appearing to be not so popular.
4. There are now 2 lists of books to cover the above two libraries. If a book is required out of the Storage Library, please let the Librarian know you require it and it will be taken out of storage for you to collect at the next month's meeting.
5. The newsletters and journals that we receive from other Societies have been sorted and there will be up to 4 years of the most popular available in our Library to loan out.
6. New additions will be added as they come in and 4-year-old versions will go to the Storage Library.
---
GARDEN VISITS:
A garden ramble has been planned for Wednesday, March 17, visiting the gardens of Sharyn, Neville, and Graham and Elizabeth and stopping for lunch (BYO) at the Blackbutt Reserve (access off Shellharbour Road via Woodlands Drive, next to the Blackbutt Motel, or alternatively, from the south side off at Tongara Road). BBQ facilities are available at the Reserve. This outing will be by private car, and you may like to arrange car-pooling at one of our meetings before then. The plan is to meet at Graham and Elizabeth's garden at 10 am (25 Tallawong Crescent, Dapto), stop for lunch at the Reserve and then go on to visit Neville and Sharyn's gardens in the afternoon (Sharyn at 25 Antrim Avenue, Warilla and Neville at 52 Wentworth Street, Shellharbour).
---
WORKSHOP:
Another of our popular workshops will be held on Saturday, April 17, dealing with the removal of pups from perhaps some of the more difficult genera such as Vreiseas. If you have plants that you would like help with in this area, you might like to bring them along to the gathering. Again it will be held at Sharyn Baraldi's home at 25 Antrim Avenue, Warilla (Phone: 4296 2166) from 10.00 am until 2.00 pm and anyone interested is invited to attend. Bring your lunch (and something for morning tea would be appreciated), tea and coffee will be supplied. Thank you, Sharyn, for opening up your lovely garden once again.
---
BOTANICAL ILLUSTRATION TRIP IN THE AMAZON:
We have been contacted by Lorraine Martins, a director of the newly formed Association of Friends of Margaret Mee, who has supplied information regarding a botanical illustration trip in the Amazon (enabling participants to become familiar with the Amazon environment, observe its vegetation closely, understand its ecology better and for anyone who wants to learn to draw or paint flora in watercolour), taking place in May, 2010. The watercolour classes will be conducted by Dulce Nascimento (a botanical illustrator and a graduate of the Fine Arts of Rio de Janeiro, who improved her technique at the Royal Botanic Gardens, Kew as a scholar of the Margaret Mee Foundation—for examples of her work visit: www.dulcenascimento.com.br) and the trip will also be accompanied by Gilberto Castro, a biologist with wide experience in the Amazon, giving participants a wonderful opportunity to see and explore nature in the Amazon, in virtually untouched areas. See back cover for additional information.
---
COMING EVENTS:

| | |
| --- | --- |
| April 1-14 | SYDNEY ROYAL EASTER SHOW – Bromeliad competition and exhibit arranged through the Bromeliad Society of NSW. |
| April 24-25 | BROMELIAD SOCIETY OF NEW SOUTH WALES AUTUMN SHOW – Senior Citizens Centre, 9-11 Wellbank Street, Concord. |
| May 1-2 | BROMELIAD SOCIETY OF AUSTRALIA AUTUMN SHOW – Burwood RSL. |
| Jul 26 - Aug 1 | 19th WORLD BROMELIAD CONFERENCE – NEW ORLEANS. |
| Sept 11-12 | ILLAWARRA BROMELIAD SOCIETY SHOW – Uniting Church Hall, Russell Street, Corrimal. |
| Oct 9-10 | BROMELIAD SOCIETY OF AUSTRALIA SPRING SHOW – Burwood RSL. |
| Oct 23-24 | BROMELIAD SOCIETY OF NEW SOUTH WALES – SPRING SHOW. |
---

UPCOMING MEETINGS:
February 6, 2010: Graham Bevan: Library Update
February 6, 2010: Eileen Killingley/Neville Wood: Leaf Patterns in Neoregelias
March 6, 2010: Neville Wood: Bromeliads Which Do Well in Sun/Those That Do Well in Shade
April 3, 2010: Laurie Dorfer: Tillandsias and Their Environments

---
PLANT RESULTS - October 3, 2009
OPEN

| | | |
| --- | --- | --- |
| 1st | Neville Wood | Aechmea nudicaulis Costa Rica* |
| 2nd | Phillip Robinson | Dyckia platyphylla |
| 3rd | Elizabeth Bevan | xNeoregelia Oh! No! |
NOVICE
| | | |
| --- | --- | --- |
| 1st | Steve Morgan | Aechmea Del Mar |
| 2nd | Warwick Varley | Billbergia Muriel Waterman (with darker than usual infl.) |
| 3rd | Ann Kennon | xAechmea Pie in the Sky |
TILLANDSIA
| | | |
| --- | --- | --- |
| 1st | Graham Bevan | recurvifolia var. subsecundifolia |
| 2nd | Ann Kennon | aeranthos |
| 3rd | Steve Morgan | tectorum (A very large, beautiful clump) |
---
PLANT RESULTS - November 7, 2009
OPEN

| | | |
| --- | --- | --- |
| 1st | Catherine Wainwright | xNeophytum Galactic Warrior |
| 1st | Neville Wood | xNeophytum Galactic Warrior |
| 2nd | Neville Wood | Neoregelia Camelot |
| 2nd | Neville Wood | Neoregelia Apricot Nectar (Unregistered) |
| 3rd | John Carthew | Neoregelia Screaming Tiger |
NOVICE
| | | |
| --- | --- | --- |
| 1st | Jørgen Jakobsen | A large clumping Vriesea with 6 inflorescences |
| 2nd | Jørgen Jakobsen | Vriesea fosteriana Red Chestnut |
| 3rd | Warwick Varley | Vriesea saundersii x bituminosa |
TILLANDSIA
| | | |
| --- | --- | --- |
| 1st | Catherine Wainwright | albertiana with 4 brilliant red inflorescences |
| 2nd | Catherine Wainwright | seleriana |
| 2nd | Catherine Wainwright | fuchsii |
| 2nd | Catherine Wainwright | fuchsii |
| 3rd | Suzanne Burrows | globosa |
| 3rd | Suzanne Burrows | [labelled abdita, now T. bradeana], but with its apricot/white flowers thought more likely to be didisticha! |
*A NOTE ON AECHMEA NUDICAULIS 'COSTA RICA'
Aechmea nudicaulis 'Costa Rica'/Zebra?: As I could not find 'Costa Rica' as a registered cultivar, I went searching and Googled up a thread on one of my very favourite sites—Garden Web Bromeliad Forum-and found this posting by Peter Tristram under the heading, "Self set or naturally pollinated? " dating back to November 12, 2009 (Peter's posting on November 16).
"Since a nice form of A. nudicaulis was introduced into Australia by me and registered as 'Zebra' it is quite possible some of you have it. It came from Costa Rica, Chester Skotak, and is a highly attractive plant. The pics posted as Costa Rica sure look similar to it as it has distinct banding, inflated sheaths, orange leaves in good light and a red and yellow inflorescence. I know Olive [Trevor] imported her form and it is similar to my form but a bit less 'chunky'. See FCBS site. There are more forms of nudicaulis than you can poke a stick at. I have at least 10 distinctive ones and heaps in between but there are many more. In Rio alone the trees are full of all shapes, colours and sizes. It likes hybridising too so keep this in mind with seed."
As Neville got his plant from Nina who got hers from Peter, perhaps it could be 'Zebra' although from Neville's pictures on the Garden Web site of his plant, some thought that it could be Aechmea nudicaulis var. aqualis, or perhaps 'La Tigra'. However, the history would seem to make it 'Zebra'.
---
BROMELIAD LEAF PATTERNS, AN EVER CHANGING ART
By Andrew Devonshire
(Reprinted from Bromeliad, the Journal of the Bromeliad Society of New Zealand Inc. June 2009 issue, Vol. 49(6) with permission)
What is it about bromeliads that is just so appealing? Is it their colour, pattern, size, or form? Or perhaps it's the endless variety and combination of these traits that make this family of plants so collectable?
In this article I want to delve into the fascinating range of leaf patterns or markings. Variegation, zonation, marmoration, tessellation, fenestration are just some of the words used to describe the eye candy of leaf patterns. Vrieseas are well known for their tessellations, fenestrations and hieroglyphics, but here I will focus on one genus that makes an art form of leaf patterns … Neoregelia.
Many features can combine to create a desirable Neo: features such as spines, stolons, leaf colour, leaf shape, leaf tips, leaf patterns and of course cup colour in various degrees. Here we will look at some of the most recognisable leaf patterns.
The eye catching pattern of yellow/green circular spots on a red leaf creates the stunning colour contrast known as marmoration. This would have to be one of the most recognized patterns, probably because of the most prolific and widespread bromeliads to be found in NZ gardens is one regularly called Neoregelia marmorata hybrid. This plant, as its name indicates, displays a fine example of marmoration. Incidentally, the true N. marmorata is a species, identified by its white flowers, and is not frequently seen in collections. Classic plants like 'Bobby Dazzler', 'Manoa Beauty', 'Gold Fever', and 'Wild Tiger' are always in demand, and are all good examples of the marmoration pattern.
Another familiar pattern found in plants like Neoregelia concentrica and its hybrids is often termed the concentrica trait. These plants show a number of dark blotches, that will occasionally form into bands. 'Gee Whiz' and 'Takemura Grande' show this trait, with 'Kawika' a good example of how the banding can develop. A distinguishing characteristic is that these markings typically have a bumpy or sunken appearance which you can often feel with your finger. So the next time you see this type of pattern, try it out, and run your finger over the marks. They don't come through on the underside, so just feel the top, and if you can feel the texture of the pattern, then it's the concentrica trait for sure.
Spotting and banding is widespread in Neos, and while these markings can all appear similar to the concentrica trait, if the markings are smooth, then they will often belong to the closely related traits described as maculation and zonation. Maculation describes the defined spotting seen in plant like N. olens, pauciflora, and smithii, while zonation describes the defined banding seen in plants like 'Hannibal Lector', zonata and 'Blushing Tiger'.
As these two leaf patterns are so closely related, they will often occur together, as seen in plants like N. pascoaliana, lilliputiana, and many types of ampullacea. It's interesting that in hybridising maculation appears to be the 'default setting', as most hybrids will turn out to be spotted, with good, strong and clear zonation much harder to achieve. This results in the very high demand for the few well-defined zonated hybrids.
When the term variegation is applied to Neos, it usually means plants showing longitudinal stripes of contrasting colours. However, this definition tends to combine both the red striated plants and the white variegated plants, which are in fact quite different patterns in their own right.
The red striated plants, or radial reds as they are sometimes referred to, are firm favourites of mine, and we are fortunate to have a wide range available here with many new striated hybrids being introduced over the last few years. The radial reds are plants with a series of fine red lines running along the length of each leaf, typically seen in 'Rosea Striata', some clones of 'Exotica Velvet', and a similar pattern in the classic Grade Goode hybrid, 'Amazing Grace'. At times these fine lines will merge to form attractive wide red stripes, as we see in 'Red Romance', adding a real sense of drama to the plant.
There is no doubt that white variegation is the most sought after pattern in Neos. This type of variegation adds eye-catching appeal to any Neo, but really comes alive when it is found on Neos with strong colour to the leaves, as we see in 'Fosperior Perfection', and 'Pemiento'. The most popular forms of white variegation are albomargination, where the leaves are edged in white, like 'Yin', and 'Medio-picta' where the variegation seems to be painted down the middle as in 'Yang'. White variegation can be found in a range of different forms, and many articles have been written on this type of leaf pattern.
The fascination I have with leaf patterns in Neoregelia is how they are able to be combined. For example, take a standard Neoregelia carolinae, a plant that has proven its popularity over many years and one that is attractive enough in its own right with the vivid red centre flush on flowering offset by a rosette of fresh green leaves. Add white variegation into the mix and we get a whole range of well known plants like the popular N. carolinae forma tricolour, 'Inferno', and 'Flandria'. We can go further still, by adding to this an overlay of marmoration, then we have the eye candy of plants like 'Milagro', 'Kahala Dawn', and 'Garnish'.
With this ever-changing art of combining bromeliad leaf patterns, and the limitless variety of traits these plants possess, we can look forward to a never-ending supply of new plants to keep our interest alive.

---
AIR — TEMPERATURE — LIGHT — SOUND
By Kathy Dorr
(Reprinted from the Journal of the Bromeliad Society (1972), July-August, Vol. 22(4))
If there are keys to open the door for growing better bromeliads, I am convinced that these are the golden keys.
Air
I quote from Bromeliads in colour — "A friend who has just returned from a botanic expedition to the headwaters of the Amazon commented on the fact that the most exciting floral display she saw was in a narrow valley situated between the towns of Loja and Zamora in southern Ecuador. Here the wind blew relentlessly night and day; in fact the valley was a veritable wind tunnel, the whirl-blast being so strong that it was difficult for a person to stand up against it. But the orchids and bromeliads presented an unforgettable sight--for beauty of flower and magnificence and size of plant surpassing anything that she saw on her entire trip."
After reading this and examining some of the problems I have been having with leaf burn and various other things, I wondered whether we really give our plants enough air circulation. After all, they did grow outside in their native habitat; and in all the research I could find on weather, it seemed that there was a great deal more air current in the areas where they were found than I was providing. Most of us usually turn off the fans we have at night; however, nature does not. I immediately purchased and started using twenty-inch fans both night and day and have used them for nearly two years in this manner.
I find I have virtually eliminated all leaf burning even on Vrieseas and Guzmanias. Unless I happen to set a plant in a "dead spot", I find I no longer have the browning of leaves next to the plant at the base as I used to. My plants are healthier and stronger. "Centre rot" has become a thing of the past. I also find that I can keep the humidity much higher, which in turn makes the plants happy and also heightens the colour. The plants can stand much lower temperature, with no damage, with the increased circulation.
Temperature
Although this is important, I really believe that its importance is stressed entirely too much in the field of keeping too even a temperature. I believe the exercise of going from one extreme to the other will make a healthier, stronger plant. I have had the temperature in both my plant house and greenhouse go to 115-117°F [46-47C] during the day in the summer and then drop to the sixties [16-20C] at night. It only seemed to make the plants thrive better. I do strive in the winter to keep the temperature at 50°F [10C] or more at night, although I have sometimes had it drop down in the high forties [8-10C] . In observing other growers' plants and making comparisons, I believe this is the reason that my Vrieseas and Guzmanias have heavier, sturdy leaves.
Light
This is something that is important to some plants and to others is as bad as a disease. Some require a great deal, while others will burn in just a little. It does not necessarily mean that all Neoregelias can take light and all Vrieseas cannot. Some Neoregelias are just as touchy about light as some Vrieseas, and some Vrieseas can take just as much light as some Neoregelias. You can watch the texture of the leaves and gradually expose to more light until you feel you have reached the maximum. Although someone may tell you that he has grown a particular plant in full light, it doesn't necessarily mean that you can. Every area is different.
Oddly enough, you can completely change the shape of a plant by the amount of light given it. Shade is inclined to make plants with long lanky leaves that are dark green. The more light given, the more a plant will tend to have shorter, wider leaves and its colour will tend to become more vivid. Most plants are at their prettiest grown in the maximum amount of light they can stand without burning.
Sound
This is something that is rather new in the growing of plants. There have been a number of experiments done with sound and plants. A Denver, colorado, college student has done a great deal of research on this. She has found that plants she exposed to loud rock music reacted favorably and even grew toward the sound.
A lie detector expert in New York City has spent nearly four years collecting evidence that plants feel apprehension, fear, pleasure, and relief. He has used a lie detector to measure the reaction pattern of a plant and found it similar to the reaction pattern of a human subject under the same stimulation. He suggest that plants may possess a kind of "cellular consciousness"—that is, a system that would permit communication between plant and animal life.
—Lakewood

---
NOTES ON FOLIAGE COLOUR
By Robert Tucker, Gordonvale, North Queensland
(Reprinted from Journal of The Bromeliad Society, May-June, 1999 Volume 49(3)—originally appearing in Bromeliaceae, bulletin of the Bromeliad Society of Queensland, Vol. 32(2), March/April, 1999)
It doesn't take much knowledge of bromeliads to make one realize that their foliage colours are perhaps quite unique and distinct. The bizarre reds of many species are not to be found in any other family and a quick think to the coloured leafed calatheas, gingers, cordylines, orchids and aroids soon demonstrates this point. It takes hybrids, sports and mutations in crotons or begonias as dicots to bring out similar colours. Monocots have mastered colours in foliage and bromeliads have surpassed all other monocots.
Colour seems to be a rather vague term when trying to describe the tones, tinges and opalescent hues of some plants and to make orthodox colour definitions more ridiculous, contrasting colours are often blended so as to be quite distinct from each other, yet neither seems incongruous. Brilliant reds and purples can fade to green so smoothly and without sudden contrast as in many Neoregelias, yet try yourself to merge such colours on paper and you would have a gaudy mess.
I find it very odd and fascinating that so many species have coloured leaf tips. Among my plants Neoregelia is conspicuous, but so are its hybrids and other members of that genus. Aechmea 'Bert' has such obvious black spots on its tips that neither of its parents have and Vriesea philippo-coburgii has red tips somewhat similar.
These tips seem to be so common as to be traditional bromeliad equipment but what purpose they serve must be as obscure as the reason for the absence in other species. The type of pigmentation differs somewhat: Aechmea 'Bert' and Vriesea philippo-coburgii have surface colour laid over the green leaf while Neoregelias exclude all the green from their tips and fill the tissue with a generous amount of red, pink or purple.
I have found these latter types to be bleached by strong light, becoming pale pink or white, and they can be unsightly, but when coloured to perfection they appear as signals defining the extremes of the rosette. During wet weather in subdued light the shine of the wet leaves and the glow of the red tips can be stunning. Neoregelias remind me of cosmic happenings, an exploding star or a vast spiralling galaxy, hardly earthbound plants to be related to the rest of the mob.
It is strange how some people describe the markings of some bromeliads. I have always thought of Neoregelia spectabilis x marmorata as having reddish leaves with areas lacking in colour and having only green, like reverse freckles, rather spots of plain green amidst a mass of pigmented red. Some people tell me the plant is mottled with red, I am sure it is mottled with plain green.
Some Guzmanias and Vrieseas have bright colours inside their leaves, concentrated along vascular bundles just below the epidermis. A similar condition seems to occur in many Neoregelias in their bright centres during flowering, giving them opalescent hues. Cryptanthus with fleshy midribs are very opalescent, and to look at them through a microscope is most incredible, like living gemstones, a light layer of cells forming their epidermis actually refracts the light in fascinating ways.
Increased sunlight brings out darker colours in many plants. Red is most frequent but black and purple also occur. I take this as being a measure the plant has taken to prevent it from receiving too much light, especially when sunlight increase means a drop in humidity and increased photosynthesis. Overcast weather, with or without rain, has obviously given my plants better growth, and having so much cloud cover the foliage colours, although subdued, are quite evenly suffused through the leaves.
Temperature drops are interesting colour stimuli, even reductions are most benign. During our early dry season the nights are quite cool, and dew falls heavily. Plants on trees or those terrestrials enduring much exposure assume bright colours that are quickly lost when hot weather returns. A slight increase in acidity in the soil or leaf tanks has a similar effect and increases colours quite sharply; alkalinity on the other hand (with the exception of Dyckias and Hechtias) reduces colour or induces the plant to concentrate the colours in irregular patches.
Mild starvation and low moisture levels are great colour-making conditions. Billbergias react most conspicuously, even to the extent of forming thicker and thus more vivid bands of scales on their reverse. Bright light is necessary in my growing area so obviously a little bit of stress is not harmful to these plants, especially in my climate where Billbergias seem to grow too lushly otherwise.
Bromeliads could be noted not only for their weird colours but also for their bizarre markings other than leaf tips. Vriesea splendens is conspicuous with its bold purple and black bands. On the desk in front of me a near mature specimen sits, its colours heightened somewhat due to the plant being wet from recent torrential rains. Aechmea chantinii, Guzmania musaica, Guzmania lindenii and Vriesea hieroglyphica have similar markings. They seem very bright, but in a dense rainforest would serve to conceal the plant somewhat until the inflorescence emerges. These markings, with one exception, are not surface deep only and increase in brilliance with more light. The exception is Aechmea chantinii whose vivid bands are formed by scale; an increase in light yellows the foliage and the silvery bands become less obvious. The difference between the types is great but they must have a similar function but what this is remains quite obscure.
Vriesea splendens has interesting markings. They are less conspicuous on the upper leaf surface. Looking at the plant from above one sees a rosette of lightly banded leaves. From below, with light passing through, the markings are almost black and contrast with the light green leaf. Aechmea fosteriana and A. orlandiana have similar markings, but their joint hybrid, 'Bert', has the most interesting combination. My Aechmea 'Bert' is a trifle different form to those I saw in the south. It is larger and more open and less colourful, but vivid and striking all the same. Why the bands should be lighter above than below seems odd, but this plant has a different nature again. Its dark bands and zigzags underneath are not brought out above, but are overshadowed with green, while the areas underneath that are green are superimposed with brown, so that the plant, if viewed from below, appears to be heavily coloured When looking at it from below or side-on it is only banded. Perhaps these differences are adapted for crown-dwelling creatures who would pollinate the plant or perhaps live inside, while those living below would not notice it so well.
Some plants, like most Neoregelias and a few Aechmeas (pectinata, mexicana) attain their brightest coloration shortly before flower, and maintain this until the seeds ripen. Obviously this helps to attract pollinators to these plant which have rather small flowers that lack bright colours. Interesting is the manner in which the colours are displayed; they generally make the rosette more symmetrical and centralized like runways or landing fields, all coming to one central point. Indeed I have watched bees land on neoregelia leaves and walk down the leaf to the water where they fly to the nearest flower. I would have thought they would fly straight to the flower.
Banded Billbergias can be uninteresting when viewed from above, but from the side or below they are very attractive. For this reason I have put those banded Billbergias up in a tree where they can only be seen from a distance below, along with a few Vriesea splendens and Aechmea chantinii to make a startling display.
There are many things which we observe so casually and then take for granted but which are more complex and require more understanding, but to do this in the case of bromeliads we would need to stay in their homeland among the plants. They are complete opposites to us warm-blooded, oxygen breathing, mobile beings, but what wonderful opposites they are.

---
COMMUNITY BASKETS WITH BROMELIADS
By Kenneth Quinn, New Orleans, Louisiana (Reprinted from the Journal of The Bromeliad Society, November-December 2001, Vol. 51(6))
A group of Bromeliads of the same species or cultivar is undeniably attractive. If you have any doubts of that, just look at a large cluster of Neoregelia 'Fireball'! However, by growing together a variety of colours, sizes and shapes, you can create a very pleasing effect. Here are a few observations on doing so.
My own preference is to use hanging baskets. Plastic ones are easily obtainable and relatively cheap, but I would much rather use wire baskets with coconut fibre linings. These will eventually rust and the fibre will deteriorate after several years, but in the meantime the plant will appreciate the very good drainage and the wire basket just looks better than plastic. I have seen coated wire used for baskets, and suspect these would be even better. Fill the lining most of the way with a good soil mixture, rich in organic material but draining easily—just as you would use in a regular pot.
The next step is the one that will allow your own creativity. Get together a group of plants and move them around until you get a grouping that is pleasing to the eye. It's a good idea to have a focal point, such as a large plant in the centre, and surround it with small plants that have a different leaf colour or shape. A large Vriesea with unpatterned leaves, surrounded by small Neoregelias with speckled leaves, would be such an example. Don't be afraid to crowd the plants—a dense group is better than bare soil. Once you are satisfied, put the Bromeliads down into the soil and top off with additional soil. If you are using coconut fibre lining in a wire basket, you may want to place some of the more mesic tillandsia species, such as T. polystachia, into the top of the lining. More xeric species of Tillandsia can be tucked between the wires and the lining.
Consider using some plants other than bromeliads in the mixture. You may want to plant syngonium, pothos, or some other vining plant near the edge and let it drape over the edge—this can have a very beautiful effect, and the contrast is pleasing to the eye. Hoyas also vine, and unlike most other vines do not need frequent trimming. Among the epiphytic cacti, try rhipsalis and hatoria; they like the same soil and treatment as bromeliads and have a very different texture. I do not use Christmas cactus or Easter cactus; they both want a dry period which conflicts with the needs of the Bromeliads. I have not seen any ferns that I think blend well with Bromeliads but I have had volunteers start up in the baskets from spores. They are invasive and I do not let them stay.

---
BROMELIADS IN TREES
By Joy Pritchard, Sorrento, Vic.
(Reprinted from BROMELETTER, journal of the Bromeliad Society of Australia, March-April, 1979 Vol. 16(2))
Most bromeliads are true epiphytes, so are well suited to 'tree' culture. It is an enjoyable and easy way to grow them, providing you remember a few simple procedures.
Most gardens have one or more suitable trees and almost any tree provides a good home. I have never tried any of the conifers because we don't have any, but I think the foliage could prove to be too heavy and shady. Fruit trees are ideal and provide many attractive places to make a planting. Neoregelias, Billbergias, Aechmeas, Quesnelias, Vrieseas and some of the Nidulariums have taken to the trees here at Sorrento. Once established, the removal of spent foliage to keep them looking tidy is all the care they require. Watering is provided by ordinary garden watering, as Bromeliads are able to take both nourishment and moisture from the air about them. A little thought beforehand and a little patience will bring rich reward.
Firstly, try not to have lots of trees planted all at once: better to choose one tree and make a feature of it rather than have one or two plants tied here and there and not really meaning anything. Treat it as an exercise in floral art.
Having chosen your tree, you need, as well as plants, lots of one-inch wide strips of nylon stocking, a little bush moss, coconut fibre, old pine needles or, really, anything that will make a small pad above and beneath the plant on the tree. Be sure, after positioning the plants, to tie firmly, making several ties if needed, otherwise the birds will soon have them off again. A lot of moss is not needed as the firm tying is the most important factor. The moss helps to keep the plant positioned better, and not looking like a leg in a splint. Remember, too, to study your tree weatherwise, and plant on the side of the tree that receives shelter from bad weather or hot sun.
Now to plants. Billbergias look best perched rather higher in the tree where their flowers show to best advantage. So, too, do Aechmeas. Remember to choose the smaller growing varieties—e.g., Billbergias 'Santa Barbara', 'Windii', 'Glymiana', 'Violet Beauty' and similar types; the big growing B. vittata, zebrina, etc. are better as ground plantings or tub plants.
Aechmeas fasciata, weilbachii, gamosepala, pineliana minuta and nudicaulis are all splendid varieties for trees and can be tied to the trunk as well as the branches.
Neoregelias look best nestled in the forked branches where their coloured centres can be seen, and will take a good deal of sun.
Nidulariums [now Canistropsis] billbergioides 'Citron' [now 'Lemon'] and others in this group and Neoregelia burchellii, as well as Quesnelias humilis and liboniana, will all in time climb along the branches, but prefer a little less sunlight.
Vrieseas need a shady spot and only the hardier varieties should be used. Vrieseas carinata and guttata are sturdy plants to begin with.
A few bromeliads, hardy ferns, etc., planted in the ground or placed in their pots at the base of your tree, really make it look like a little rainforest. Try it, it's really fun, and trees were here before pots!
Late winter seems to be a good time to make your planting: they should be ready then to start into growth in the Springtime.

---
DID YOU KNOW?
Tillandsia usneoides (Spanish Moss) does best when hung freely in the air, and not in contact with anything.

---
ASSOCIATION OF FRIENDS OF MARGARET MEE´S AMAZON TRIP
May 10th to 16th, 2010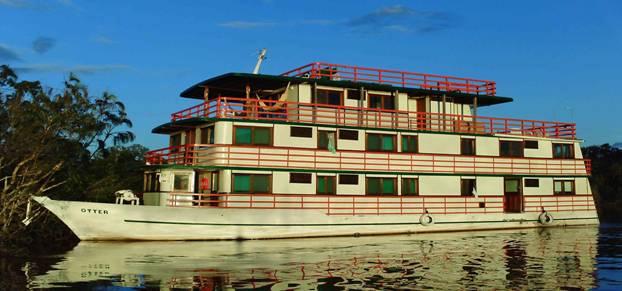 On May 22, 2009 Margaret Mee would have been 100 years old. In 1988, on her 15th and last trip to the Amazon, Margaret commemorated her 79th birthday on the shores of the Rio Negro at Gilberto Castro´s house. He remembers well that on the occasion Sue Loram, a great friend of Margaret´s who accompanied her on this trip, made a delicious Cupuaçu cake that was greatly appreciated by all those present. In that location we now have a beautiful bronze plaque placed on marble in her memory. In this centennial year we paid our respects to her on that same spot. This 17th trip will be from May 10th (a Monday) to May 16th (the following Sunday). Although we won´t be there on the 22nd we will make a toast to her memory at the time of our visit.

Our new Association of Friends of Margaret Mee was formed in January 2009 with three directors: William Searight who is setting up a permanent exhibition of Margaret´s work in his house in Paraty, a lovely fishing village three hours from Rio, where different events such as art, music, cinema, literature, etc. are held every week and people from all over the world visit there. Gilberto Castro will continue the Amazon trips, and Lorraine Martins will run the office of the Association from her home, as well as handling the Amazon trips.

Since 2006 we have upgraded our accommodations to Gilberto's new boat. We still enjoy the advantages of a small group (maximum of 18 passengers), but with a whole new level of comfort. The "OTTER" is 88 feet long and 24.6 feet wide, has four decks, 8 double cabins with large twin beds, one cabin with a double bed, individual air conditioning units in each cabin, all with private bathrooms with hot water showers. On the first deck we have the command, five passenger cabins, crew quarters, kitchen and service areas. On the second deck we have four passenger cabins, a 350 square foot enclosed dining room, a small open veranda, and service areas. On the third deck we have two covered verandas, one in the front and one in the back, one sun deck area with a Jacuzzi tub and showers, a bar, a toilet and a nice enclosed 250 square foot living room. The fourth deck is a 360 panoramic sun deck. It is the most comfortable boat for its size in the Amazon. All cabins have ample panoramic windows.

During our trip we will take several canoe rides through the rivers and flooded forest areas, a few walks through the jungle and visit some natives in their huts and small villages.

Flights:
There are several flights from various companies, both from Rio de Janeiro and São Paulo, leaving in the morning, arriving in Manaus in the early afternoon between 1:00 P.M. and 2:00 P.M. Return flights should be bought for the planes leaving Manaus in the early afternoon after 1.00 P.M., as the boat returns around 11.30 A.M. on Sunday. There are also direct daily flights coming from Miami on TAM airlines (www.tam.com.br) and 5 days a week on COPA airlines (www.copaair.com), with a possibility of connections in Panama for those coming from the west coast or central U.S. Delta Airlines also has a few flights a week from Atlanta.

The price is US$1,650.00 per person plus the airfare. Special offer: for one accompanying person: US$1,600.00. Passengers of previous trips pay the promotional price of US$1,600.00. The price will include transfers in Manaus to and from the airport, all meals aboard, mineral water, excursions in the canoe and walks in the forest.

Not included in the cost are: alcoholic beverages, soft drinks, personal and baggage insurance, laundry, tips, airline tickets, hotel costs in Manaus, and entrance fees to the Manaus Opera House and museums.

If you are coming from abroad a Valid Passport will be required as well as a Visa for certain countries (such as the U.S.A., Canada, Australia, etc.).

If you are interested and would like further information about the trip, payment, etc., please contact: Lorraine Kaminsky Martins in Rio de Janeiro at: Tel./Fax: (55-21) 2257-1510; e-mail: lorraine13@terra.com.br
---
Click HERE to return to Illawarra Bromeliad Society "Club News Page".

---
Updated 12/04/10
---