Bromeliad Society of Australia Inc.
Seed Bank
---
The Seed Bank provides a service to members of The Bromeliad Society of Australia, supporters of the Seed Bank and other interested enthusiasts, for the collection and distribution of all types of Bromeliad seeds from local and overseas sources. Seeds cost 50c per packet for Members and Seed Bank supporters (plus postage) or $1 per packet (plus postage) for all other enquiries.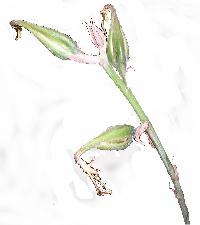 Please send orders for seeds, (including payment), to:


Terence Davis, 29 Saxon Place, Constitution Hill, NSW 2145
Seed donations should also be sent to this address.
Cheque, PayPal or Direct Deposit payments accepted, but contact Terry first at terenced@isp.net.au or phone 02-9636-6114 or 0439-343-809

Continued supply of fresh seed is constantly required by the Seed Bank to ensure that the Bromeliad needs of tomorrow will be met.

We are grateful to all of our regular suppliers of seed and to everyone who purchases from their contributions.
Please Note : The amount of seed we can provide is dependent on the quantity kindly donated. Orders for seed will be processed in the order received and is limited to 2 or 3 packets of any one type. If we have run out, you will be provided with a similar seed and/or notified.

There are many 'recipes' for seed germination and raising and it is a fascinating part of this hobby. A wise place to start is asking around in your local Bromeliad Society.
Eric Gouda has documented his method at http://tillandsia.nl/Tillandsia/zaaisysteem.php?english.
Derek Butcher, Andrew Flower, Dr. Gordon Slack and Mark A. Dimmitt have each given their recipies on http://www.fcbs.org/info.htm. This is a most useful page for all aspects of Bromeliad Culture, including Seed Raising clues.

Many thanks to everyone who made a valuable contribution to the SeedBank over it's long history.
Enquiries: contact Terence Davis at terenced@isp.net.au or phone 02-9636-6114 or 0439-343-809.

Thank you, supporters of the Seed Bank!
Alcantarea extensa

18/11/22

Terry Davis

Aechmea bromeliifolia rubra

5/3/23

David Hastings

Tillandsia capillaris (was incana)

19/9/23

Terry Davis

Tillandsia bartramii

20/9/23

Terry Davis

Tillandsia chaetophylla

20/9/23

Terry Davis

Tillandsia setacea

20/9/23

Terry Davis

Tillandsia magnusiana

02/10/23

Terry Davis

Tillandsia utriculata (Florida) ex D Cathcart backyard

23/09/2023

Greg Aizlewood

Tillandsia butzii

18/09/2023

Greg Aizlewood

Catopsis floribunda

23/09/2023

Greg Aizlewood

Tillandsia bartramii

15/09/2023

Greg Aizlewood

Tillandsia flexuosa var. vivapara limited

20/10/2023

Greg Aizlewood

Tillandsia chapalillaensis

No date

Greg Aizlewood
---
Updated 05/11/23
---